Our first grandbaby was born in January of this year and even though others who have plowed this ground before us told us this would be a life-changing experience like no other, we were unprepared for the joy her birth would bring us. Especially us...the grandparents. The grandparents who live a continent away...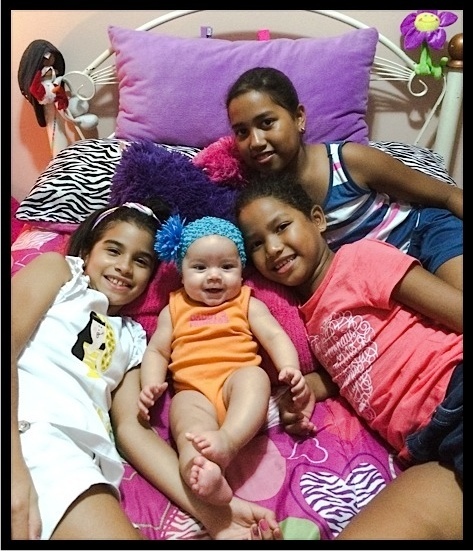 International Baby with her primas (cousins) in Panama
Photo: Brandon Clogston, InternationalLiving.com
With some good planning on our part (and great natural logistics on the part of our daughter-in-law) we could be there in Phoenix when baby arrived. So, fortunately, were the other grandparents, called abuelos in Panama where they're from.
Yes, ours is an "International Baby" born to a father from the U.S. and a mother from Panama. She'll grow up speaking both English and Spanish and, no doubt, loving both apple pie and flan. But who doesn't love those?
We've no doubt she'll be a typical girl and an extraordinary girl. And we don't want to miss out on sharing her life. But we are the grandparents who live in Ecuador. And her abuelos don't live much closer.
So our money and vacation days are now spent traveling to the States as often as we can. We wouldn't have it any other way. And International baby will certainly visit us... she's already proved her traveling spirit with a visit to Panama at the wee age of just four months.
But of course, we can't be with her every day. So we've found some work-arounds that prove to be the next best thing.
Here's where we point out that millions of grandparents are in the same boat as we are. Not all live a continent away from their little ones, of course. But today's world is so full of opportunity that we can no longer count on living in the same town as our children.
Usually it's the kids who follow a job or a whim to live in another city, another state, or another country. If you have more than one child, you can be almost sure one or more of them won't live in the same city as you do.
And with baby boomers following the sun (and a lower cost of living) to increasingly far-flung destinations, it's good to know we have so many options these days for grandparenting from afar.
Technology is a wonderful thing. As we've said many times, the Internet has especially changed the expat experience for the better. We can get instant answers to all our questions and we can do that from any corner of the world. And we can communicate with our grandbabies as well as if we're all in the same room.
In fact, thanks to video-over-internet technology we can be in the same room any time and from anywhere.
Here are some great strategies for virtually interacting with your grandchildren:
• Facebook. Once a medium for college kids, Facebook has now been taken over by parents and grandparents. We share every detail about our lives, post photos and videos, have debates and arguments, and more. It's a great way for families to stay in touch, although some of our family members feel it's an assault to privacy. Can't say we disagree on that one.
• Skype is our preferred method of communication when we want to see and talk with one another face to face. Skype video is an amazingly easy (not to mention inexpensive...as in free) way to spend hours cooing with and making goo-goo eyes at international baby. We also use Magic Jack. A tiny device that hooks to our router, it allows us to get phone calls even when our computers are shut down. A similar service is provided through Vonage. We've also used Facetime and if you're an Apple device lover, you'll find this a most convenient solution.
• If you love to be on the go without missing a moment of instant communication, you'll want to check out Whatsapp. It's a cross-platform mobile messaging app that works for iPhone, BlackBerry, Android, Windows Phone, and Nokia. And yes, those phones can all message each other, and you can create groups, send unlimited images, video and audio media messages. And no texting fees, yay.
• One of the best things to do with your grandkids, of course, is to read to them. (Remember that thing called a "book"?) You can read to them via an online video connection, of course, and you can add to that experience with a "book chat" from a service called Readeo that allows you and the little ones to flip through the pages of a virtual book while seeing and talking to one another -- just like if you were in the same room.
• Another option that doesn't require your presence is to gift your grandbabies with some recordable storybooks that they can listen to any time they like. You record your voice reading the book and a tiny implanted recording device allows your grandchild to hear you reading to them as they turn the pages. There are several places you can buy these. Three of the most popular are offered by Hallmark, Read-a-Story and Amazon.
• Or... skip the physical book and record your voice, with video, reading books using a service called A Story Before Bed. Your grandkids can then watch it as often as they like on their computer or tablet.
• Along this same line, you can record a host of fun videos for your grandbabies, as this grandma did, at My Grandma Time. She offers all kinds of ideas for games, songs, treasure hunts, and other activities you can do with your grandkids via video.
Most of all, don't forget to share the details of your life with your grandkids. If you live overseas, you can buy them maps and books about the place you live. When you visit, bring them unique souvenirs they'll want to share with other. International currency and sports jerseys have been a big hit with our nieces and nephews.
You know, earlier we said the world is a big place full of opportunity. But the world is also smaller than ever, too. Thanks to technology, we can connect with others anytime, anywhere...
You can be sure International Baby won't be growing up without us in her life.
Related Articles:
Moving To Ecuador: What About the Grandchildren?
"A Low Cost of Living, Perfect Weather and Other Reasons Why We Moved To Salinas, Ecuador"
The 5 Biggest Benefits of Retiring Overseas
Earlier on Huff/Post50:
PHOTO GALLERY
Ecuador: Beautiful and Low-Cost