We've lived and worked abroad for nearly 13 years now. And we know for certain that in many convenient, never-shovel-snow-again destinations around the world, you can enjoy a comfortable lifestyle, but with a significantly lower cost of living than in the U.S. or Canada.
For example, we live a simple (but yes, very comfortable) lifestyle in a small Andean village in Ecuador.
There are few extravagant temptations, yet we live well and happily. We go out to lunch and dinner at least once a week. At home, we like to cook and we don't scrimp on ingredients. We don't have to. At our local farmer's market, a tote bag full of fresh fruits and vegetables that will last the entire week or longer can be purchased for just $10. Sometimes even less.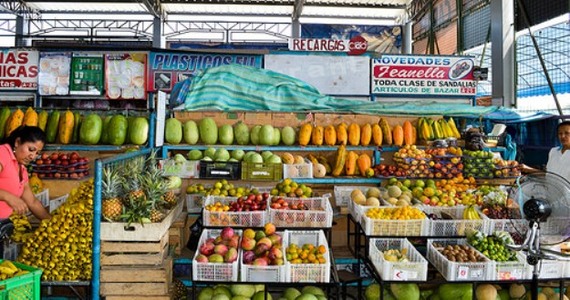 Photo by Erica Mills, InternationalLiving.com
And because we're tempted to purchase and eat more fresh produce, we're eating healthier than ever. And we don't need a car, as public transportation is safe, reliable, and affordable. We walk about our daily errands and that keeps us healthier and feeling better...and happier, too.
If you're thinking about retiring overseas, how much money will you need? That all depends on your lifestyle needs, of course. Keep in mind that "where" you live will affect "how much it costs" to live. Live in a temperate mountain town like ours, and you likely won't need heat or air conditioning, vastly reducing your utility costs.
But just to give you an idea...
The Average Monthly Budget for a Couple in Ecuador:
Rent: $450
Electricity: $25
Gas/water trash collection $10
Transportation (bus/taxis): $10
Phone (land line/Internet): $55
Phone (cell phone): $10
Satellite television: $45
Groceries $500
Dining out $250
Housecleaning $45
Miscellaneous $100
TOTAL: $1,500
What's not included? Travel or health care costs. We, for example, occasionally treat ourselves to a night or two in Quito, and our costs for that vary greatly, depending if we stay at a hostel ($30 a night), a mid-range hotel ($80 a night) or a four-star hotel ($150 a night). In Quito we're usually on the prowl for ethnic food we can't get in our little town, and those costs can range anywhere from $5 each for Indian food at a spartan hole-in-the-wall to $45 per person for a five-course tasting menu at an upscale Peruvian seafood or Argentine steak restaurant.
You may spend more, of course, depending on your lifestyle needs. Good wine and imported spirits in Ecuador, for instance, can be expensive.
The budget we've given for rent applies well in Ecuador, but you could spend more or less...again depending on your needs or requirements. Still, if you're looking to rent a furnished apartment or home in most of the countries recommended for overseas retirement, you'll pay, on average, $400 to $1,000 a month (more in well-known resort areas) for a nice, fully furnished two- or three-bedroom rental... possibly even with utilities and Internet included.
Also not listed in the above budget are costs to travel back home. We try to go back to the States to visit family at least once a year. As airfare seems to be always on the rise, we budget $1,000 each for that. (Flights from Ecuador are not inexpensive.) Once we get back to the States, our expenses can vary greatly, depending on whether we're staying with family and friends or not. Based on your personal circumstances you can figure your own budget here.
As for health care, that, too, is a personal choice. Because we travel often internationally, we've opted for a private international health care policy that covers us anywhere in the world we travel. It has a $5,000 deductible and the policy costs a bit more than $5,600 a year. Most expats, however, opt for local coverage, which costs far less.
So add it all up and you can see that your annual expenses, as ours do, may hover right at $25,000. We could certainly spend less. And we know plenty of people who do. We also have friends who spend far more than we do... They live in spacious city apartments or large beach homes and have all the boats, cars, bells and whistles.
You will have some one-time initial expenses, though, so don't forget about those as you're calculating your budget. You'll need to apply for residence and pay visa fees and for any legal services you may need. If you're renting you'll be required to pay some type of deposit (usually one or two month's rent). You'll probably want to buy some comfort items or accessories for your new home. And you'll be stocking your pantry with all the staples (spices, etc.). We recommend you have a $3,000 to $5,000 float for these expenses.
Can you retire overseas on $2,000 a month? We'd say yes. And especially if you choose a low-cost destination like we have. In some more traditional overseas retirement destinations, such as Costa Rica, Mexico, and Panama, we might be more comfortable with a budget of $3,000 a month. Even so, we know plenty of couples who live in those countries quite comfortably on $2,000 a month.
Finally: we stress that cost of living is a personal issue. You can live on $25,000 a year or even less in many of the world's most popular retirement destinations. But reducing your cost of living should not be your only reason for retiring overseas. This has to be something you want to do, not something you feel forced to do. The most successful expats are those with an adventurous spirit and a real desire to immerse themselves in a new culture and experience.
Related Articles:
Yes, You Can Afford to Retire in Italy...
Honestly: This Is How Much It Costs to Live in Panama City
Live in Chiang Mai, Thailand for $1,200 - or Less - a Month
PHOTO GALLERY
Top 5 Overseas Retirement Havens With Best Health Care 2014
Earlier on Huff/Post50:
PHOTO GALLERY
10 Trips You NEED To Take In Your 50s