When it comes to celebrating, the U.S. and Canada are absolutely sedate as compared to Latin America (and most of the rest of the developing world, for that matter). People may not have "things" like we do, but they know how to throw a party!
The only holiday we can think of where the U.S. out-shadows the rest of the world may be Halloween. Trick or treating and dressing in costumes is just not something you see much of in Latin America.
Instead, Latin Americans go one step farther.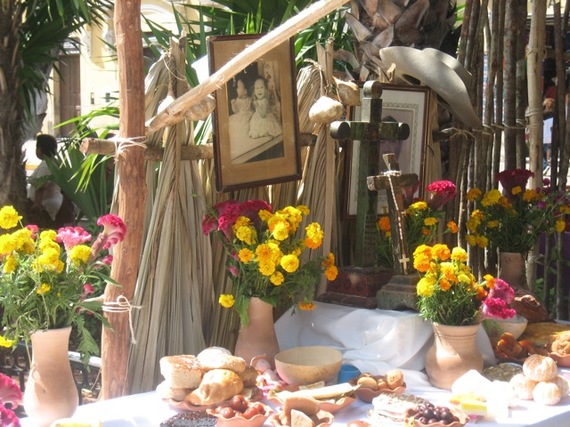 Photo courtesy of Suzan Haskins, InternationalLiving.com
On November 2 (All Saint's Day in the U.S.), they celebrate Day of the Dead -- called Dia de los Muertos in some countries, such as Mexico, and Dia de Difuntos in Ecuador, where we live. And instead of dressing as something resurrected from the dead, as you might in the States and Canada on Halloween, they go to the cemeteries to directly commune with the deceased.
In the village where we live, everyone in town -- and especially the indigenous community -- puts on their best clothes and goes to the cemetery to spend the day and even sometimes, the night. They bring flowers, paper crowns, crosses, candles and special food called ricurishca: pots of victuals, boiled eggs, fruits and more.
In our village, the indigenous burial ground is on one side of the cemetery with mestizos buried on the other side, and far more ornately, with tall gated crypts and graves with fancy headstones. Indigenous graves tend to be mounds of dirt marked with simple crosses. The celebration on the indigenous side of the cemetery, however, is far livelier, with entire families out to share the party.
For a couple of weeks now, signs advertising colada morada and guaguas de pan have been posted on homes and storefronts, made by local woman especially for this special day.
Colada morada is a thick drink, prepared with black corn flour and fruits such as babaco, naranjilla, pineapple, blackberries, strawberries, and blueberries, which give it its purple (morada) color. It's consumed together with the guaguas, bread that is shaped and decorated in the form of a small child or infant and that sometimes contains a sweet filling such as jam.
It's good to be prepared. According to commonly held belief, the dead return each year on this day, and they're looking to enjoy their favorite foods. Sometimes, objects valued by the deceased are brought along and games are played, such as the dice game Juego del Piruruy. According to the way the dice land, the living can determine the deceased's desires and needs and resolve any disagreements they once had.
November 2 is a nationwide holiday. Businesses and schools are closed and vendors line the streets that lead to the cemeteries, selling flowers, candles, candy, and food. In the cemetery itself, the town band plays as people gather amidst graves to share food and drink and memories of those who have crossed over to the afterlife.
To be certain, this is no solemn affair. Like all celebrations in Latin America, it's a lively and raucous affair, full of smiles, laughter and music. For those who might be unfamiliar with this tradition, it may very well change your viewpoint about death and dying. Not morbid at all, it's truly a celebration of life.
Related Articles:
Ecuador vs. United States
In Pictures: Beautiful and Low-Cost Ecuador
PHOTO GALLERY
Day of the Dead: No Fear Here