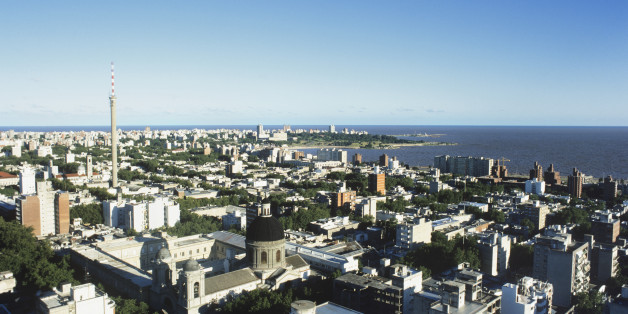 From the terrace of their spacious penthouse apartment overlooking the shady street below and the wide, sandy beach beyond, Roger and Candy explain why they love living in Montevideo, Uruguay...
Like a little slice of Europe, Candy says, "our little neighborhood is self-contained." And she's right. Tucked here and there are tiny pharmacies and clothing boutiques, hardware stores, family-owned bakeries and wine shops, intimate sidewalk cafés and parilladas (wood-fired barbecue restaurants)...
"The people here are so happy and friendly," Candy says. "We're a block from that beautiful beach over there, and we walk everywhere. We always run into someone we know. We love it that we don't need a car, and that saves us money, too."
As Roger explains, this may not be the world's least expensive place to live. But in his and Candy's opinions, it's one of the best.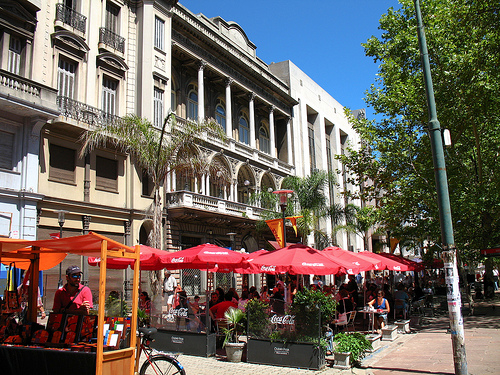 Photo Courtesy of InternationalLiving.com
To be truthful, this tidy, ultra-modern city with its distinctive neighborhoods -- and the entire peaceful little laidback country, in fact -- is more than affordable.
Roger and Candy only live in Uruguay part-time, so they know for sure that it costs them less to live in Montevideo than it does back in the U.S. And it's not just car expenses on which they save, but on big-ticket items like health insurance.
"Just to give you an idea," Roger says, "we pay $17,000 a year for health insurance in the States. In Uruguay we pay $1,700 a year -- and that's for an apples-to-apples comparison."
Candy adds, "And the cost for a doctor to make a house call? $10."
They both laugh. The excellent health care, the premium quality of life, and yes, the lower costs, may very well encourage them soon to make their home full-time in this European-flavored, cosmopolitan seaside city.
"We save more than $15,000 a year here on health insurance alone," they say. And they don't have sky-high property taxes or even a mortgage or a car payment. Public transportation is safe, efficient, and reliable. Local foods are organically produced and inexpensive.
Roger says he'd guess they spend $3,000 to $4,000 a month for their total expenses. And they live in Pocitos, one of city's best neighborhoods. They entertain more often and go to more social events than they ever do Stateside.
For perspective, another retired expat -- a single woman who owns the condo where she lives in Montevideo's Ciudad Vieja (Old Town) neighborhood -- says her monthly expenses run between $1,500 and $2,000 a month.
As you might expect, living in a major metropolitan area like Montevideo or the bustling beach resort of Punta del Este or even the colonial tourist city of Colonia on the banks of the Rio Plata will cost more than it does to live in a smaller countryside town like Mercedes or a smaller beach community like Atlantida and Piriapolis, or even farther east along the coast in the department of Rocha.
Your cost of living will vary, of course, not only depending on where you live, but how you live -- whether you grab up convenience products in sleek, modern supermarkets or you purchase whatever is in season from a low-tech farmer's market and whether or not you need a car or a big house or a full-time maid, and so on. And don't forget that your cost of living will depend on the performance of the currency of your home country against the Uruguayan peso.
For example, just seven or so years ago, the exchange rate was about 29 pesos per U.S. dollar. Today, the exchange rate is a bit more than 21 pesos per dollar. While the cost of living in Uruguay is affordable, it's not as inexpensive as it once was.
Still, says our friend David, who lives in the jet-setter's playground of Punta del Este, "even though in general prices have gone up, the big ticket items like insurance and health care costs are far lower than they are in the U.S. And I don't have a car here, so I don't have those additional costs. All in all, I have a very good lifestyle here at a lower cost than in the U.S."
Bill, a retired Brit also lives in Punta del Este, the high-priced resort area popular with rich and famous European and South American celebrities, which may be Uruguay's most expensive locale.
"But it's just the best," Bill says. "There's no other way to put it. We all dream about living in a resort area with a beautiful beach... But unless you're Donald Trump or you know about a place like this one, you just can't do it. That's why I'm here. Life is good in Uruguay."

Read More
Video: A Great Quality of Life in Punta del Este, Uruguay
Uruguay's Health Care Gives Me Peace of Mind
The Best Things in Life Are Still Free in Montevideo, Uruguay