High in the Andes south of Quito, artisans in the farming community of Tigua have been decorating drums and masks in remarkable color and detail for centuries. About 40 years ago, someone in Tigua had the idea of painting on sheepskin, and these works of art are now widely collected and prized for their vibrant depictions of all kinds of festivals... including Noche Buena (Christmas Eve) and Los Tres Reyes (the Three Kings).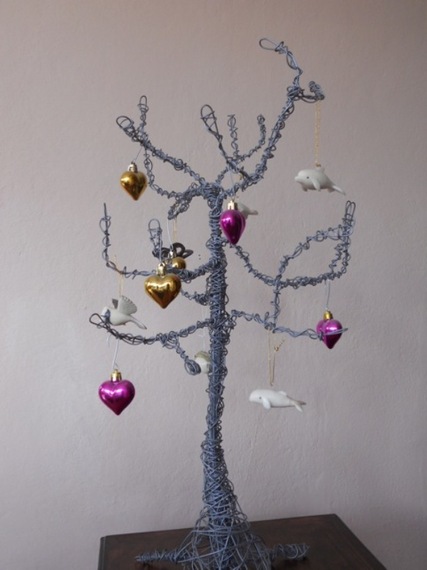 Our spartan tree is made by an artisan of one long piece of wire. The ornaments are carved from a nut called tagua and represent the animals found in Ecuador's Galapagos Islands. Photo by Suzan Haskins, InternationalLiving.com
This being Ecuador, you can find llamas and condors in the scenes, attending the manger and helping guide the kings in settings that sometimes include landmarks such as the locally sacred, snow-capped volcano Cotopaxi and the rugged slopes surrounding nearby Lake Quilatoa.
You'll find Tigua paintings... or at least paintings in the Tigua style... in tourist shops and market throughout Ecuador, but the highest quality work is found at the source -- Tigua Chimbacucho, about 34 miles west of Latacunga.
"Tigua" may look and sound like "tagua," but they couldn't be more different. You might find holiday themes in paintings from Tigua, but you'll find all the holiday decorations you can imagine actually made out of tagua, which is a seed from a type of palm tree commonly found from Panama to Bolivia.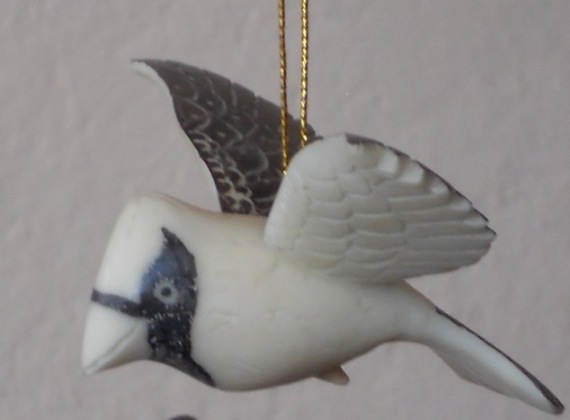 These ornaments, carved by hand, cost $3 to $5 each.
Photo by Suzan Haskins, InternationalLiving.com
Tagua seeds are usually about the size of a small avocado, and once you get the outer husk off, you have a "nut" that's about the size of a golf ball. When this nut is dried, carved and polished, it is almost indistinguishable in appearance from elephant ivory, which is why tagua is commonly referred to as "vegetal ivory." (We've seen posters in tagua shops featuring photos of elephants thanking buyers of tagua for saving their lives.)
Tagua can be carved into anything that ivory can, including beads, buttons, jewelry, and figurines. In fact, before the advent of plastic, tagua was a common material for shirt, blouse, and pant buttons, and some designers are returning to tagua buttons for the ecological and stylistic panache it provides.
But the good news during the holidays is that collectors of unusual ornaments, decorations, and nativity sets will find tagua carvings in nearly every souvenir shop and market in Ecuador at remarkably low prices considering the amount of work and skill that goes in to carving them.
But regardless if your brilliant nativity painting comes from Tigua or your intricate nativity scene is carved from tagua, both will brighten your holidays in an especially Ecuadorian way.
Related Articles:
Video: Ecuador and My Inner Retiree
The Kicks and Perks of Life in Ecuador
Five Great Traditional Festivals in Ecuador

PHOTO GALLERY
Ecuador: Beautiful and Low-Cost