In our experience, the holidays are treated a little differently in Latin America than they are in the U.S.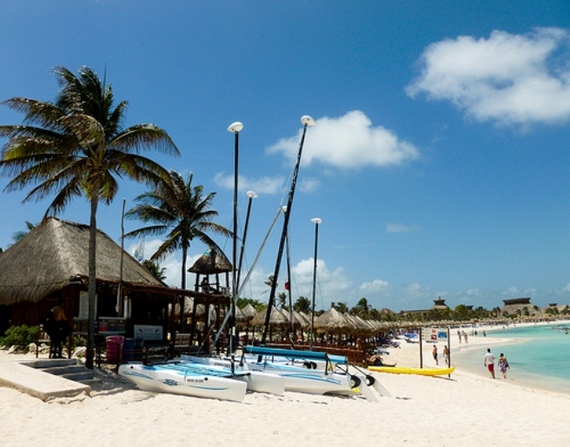 Photo courtesy of InternationalLiving.com
We noticed this many years ago when we were first living in Mexico. We were pretty green back then, and we tried to get what we thought was some highly important and time-sensitive government-related business done in late November.
The government, we discovered, was in the process of shutting down for the holidays.
The clerk at one of the offices we visited told us that anything we gave him wouldn't be dealt with until February.
February?!?
He patiently explained that, in Mexico (and, we've since discovered, much of the rest of Latin America) the holidays take up most of December, and almost everybody simply takes most of the month off unless they're in the retail or restaurant or hospitality businesses. The rest of the month is apparently taken up by office parties, card playing, and other festivities.
Most of Latin America is Catholic to one degree or another, and feast days begin happening early in December... Mexico celebrates, among others, the feast day of the Virgin of Guadalupe on the 12th, and there are thousands of other Virgin and saint feasts particular to individual municipalities throughout the hemisphere.
Then comes Las Posadas, celebrated roughly for the nine days preceding Christmas day. Neighborhoods and church parishes reenact the journey of Mary and Joseph looking for lodging before the birth of Jesus, and the entire community is involved.
Then comes Nochabuena (Christmas Eve) and Navidad (Christmas Day), of course.
Then no one misses the chance to celebrate the New Year, often with a ritual on New Year's Eve called Año Viejo, or Old Year, where effigies representing all the rotten stuff that happened last year are burned at midnight.
On January 6 is Los Tres Reyes, or The Three Kings, celebrating the Biblical story of the kings who followed the light of a star to Jerusalem and the infant Jesus.
And all this doesn't even take into consideration all the non-Christian festivals preserved and celebrated by indigenous peoples all over Latin America. Christmas does, after all, happen on the Winter Solstice, one of the most important annual events in the Northern Hemisphere since humans have been human.
Of course, explained our friendly clerk, no one in their right mind would work if they didn't have to during these festivities... after all, what's more important--taking care of business, or celebrating such an important time of the year with family, friends, and community?
This was one of our first lessons in how Latin American and U.S. priorities in life can differ. The U.S. hierarchy of life's important things is often topped by Work, with Family and Community taking second and third places.
In much of Latin America, however, Family is firmly at the top, followed by Community. Work takes a distant third place. Instead of living to work, many Latin Americans work simply to live well enough to enjoy family and friends.
Which, when we thought about it, made perfect sense, but... February?!?
Ah, yes, he answered. That really does have something to do with government.
Most government agencies in Mexico (and again, as we've since learned, in much of Latin America) have annual budgets, and any money left over at the end of the year does not carry over to next year's appropriation. So most government agencies toil diligently to spend every penny of their annual budget before everyone goes home for the holidays. Appropriations for the New Year aren't generally approved until sometime in January, so most offices have no operating funds until late January or early February anyway. So offices couldn't open before February even if they wanted to... no operating funds.
But surely, we thought, this thing that we have to take care of is Mighty Important Stuff, and the government needs it to be taken care of Right Now.
Well, our friendly clerk said, today I am the only government around here, and I couldn't do anything with your Important Stuff until next February anyway, so you may as well relax. What happens next year will be taken care of next year. No use worrying about it over the holidays.
We've taken that lesson to heart, and it's served us well ever since.
Related Articles:
Break Free for the Laid-Back Life Overseas
From a Stress-Filled Office to Relaxing in Belize
Video: Ecuador and My Inner Retiree