"We Can't Lean In, Until We Get in"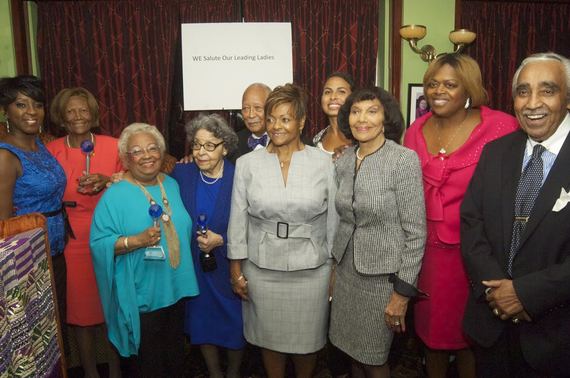 Monday September 22nd, in the village of Harlem, the ProVoice/ProVoz movement for women was launched. It was created to cultivate, create, motivate and celebrate women leaders, as we unify, amplify and multiply our voices. It is the 21st century answer to the Women's Liberation Movement for women of color. Starting with the "Blatina" initiative, bringing Black and Latina women leaders together, we began with a celebration of some of Central Harlem and Washington Height's female political leadership, at a standing-room-only event at the Gran Piatto d'Oro restaurant.
Among the honorees and attendees were Mayor David Dinkins, the first African American Mayor of the city of New York, and his wife, Joyce, Former First Lady who was honored; Congressman Charles Rangel, and his wife, Alma, who was honored; Maria Luna, the Washington Heights "dynamo" and winner of the NYS "Demmys" award; Hazel Dukes, President of the NY NAACP; and Inez Dickens, City Councilwoman- now in her third term.
It followed the beautiful and moving memorial service for actress Ruby Dee, where her poem, Calling all Women" was viewed. Our first GATHERING to call the women of the TriState area ( NY, CT and NJ) will happen this Wednesday, October 8th from 6-7 pm. It will be an hour of power at the Harlem State Office Building ( 125th Street and 7th Ave in the Village of Harlem).
Memberships for the ProVoice Movement for women are pouring in from all over the country, with the most concentration of Black and Latina women coming from, Los Angeles, Washington DC, Miami and New York. In response to Sheryl Sandberg's LEAN IN, Black and Latina women are saying, "We can't lean in, until we get in."
We want in to the corporate, diplomatic, private and public leadership circles. There's a difference between success and access. We are hoping to help women leaders, from Grassroots on "C" Street, to corporate in the "C" suite, get to their desired and destined places in life. Based on my book Becoming a Woman of Destiny (paperback released this week on Tarcher/Penguin) we are moving towards collaboration, communication and consolidation of our efforts. Members can join as individuals or organizations. Our common ground will be women of faith coming together, to be good to one another and do good in the world. This is a faith feminism movement.
Ambassador Suzan Johnson Cook is a Distinguished Visiting Fellow at Catholic University of America and the Creator of the ProVoice/ProVoz Movement for women. She speaks all over the world, and is a contributor to many television networks. Some of her videos can be viewed on her Youtube channel. Get regular updates via Facebook and Twitter.
If you are interested in attending this Wednesday evening, please RSVP at ProVoiceMovement@gmail.com or here by October 7th. An hour of inspiration and celebration! This week's guest speaker is the Hon Gale Brewer, Manhattan Borough President. The topic: Winning Women!