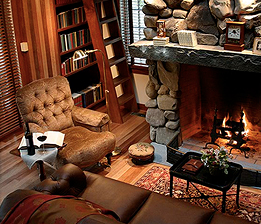 This is a real 'get away from it all' property, tucked away in 113 acres in Litchfield Hills, Connecticut. Around the hotel are woods, lakes and lots and lots of open countryside - the perfect place to retreat and recharge. The quiet, amazing light day and dusk and genteel vibe made me feel I'd been away for a week!
Accommodation is in 18 individual cottages - really private and homey. What's amazing is that 15 different architects designed the cottages - each with a distinct theme. Being I'm fairly classic and adore rustic styling (wooden beams, huge stone fireplaces with log fires) my favorites are Oak Charter and Beaver Lodge. Don't expect chintz and cheesy country chic however, these cottages are seriously stylish. The range of styles is extraordinary and fun - 'Charter Oak', is built around an ancient, imposing oak tree (actually inside the cottage!) to 'Industry' - a modern take on the steel mills and forges of the area - or 'Helicopter', with a 1968 fully restored Sikorsky HH37 Sea King Pelican Helicopter just sitting in the middle of the building... For flying fan only perhaps...! My advice: Take a good look at the website and pick the one that you love.
Henry, my toy poodle didn't get to go with me this time, but there are three pet-friendly cottages: 'Stone', 'Greenhouse' and 'Connecticut Yankee', and the setting is just perfect for holidaying pooches.Kids 5 years old + will enjoy the expanse and love exploring their cottage ("Treehouse' the clear fave - imagine!?)
The 5,000 square foot spa is up-to-date, with six signature treatment rooms, wet rooms, sunlight sauna and reflecting pool, but it's also really cosy, with a huge fireplace and leather armchairs - the perfect mix in my opinion. Very talented massage therapists - and couples massage in the same large fireplace adorned room in Winter months would be bliss.
However, you'll not just chill in the spa or gaze admiring the architecture - there's 113 acres out there! Exploring is a must and all sensible shoes are provided free of charge (wellies, snow shoes etc), which is a nice touch as they take up a lot of packing space. In addition, each cottage comes with 2 bikes for area exploration, there are a couple Mercedes Benz's on property complimentary to guests to head out to Litchfield for antiquing, go kayaking or canoeing and hiking nearby. I did it all and treasured every minute.
Everywhere you go, the idea is to enjoy the surroundings. Dinner is served in the main farmhouse (original 1700s home). The French-inspired food comes from chef Chris Eddy, who learnt the ropes under none other than Alain Ducasse. It's good, seasonal, simple food that impresses the most discerning: chilli with sour cream, roasted black angus filet mignon, peeky toe crab or striped bass with garden zucchini... delicious! Lots of it comes from their private gardens, as you might expect. An impressive wine cellar which will soon have a long table for private dining / tastings.
Design and quality might play a big part, but they never overshadow the location and the comfortable countryside feeling. This mix of cosy and chic, design values and traditional country values makes Winvian really special. The staff are the icing on the cake - expertly trained and kind, very easy-going yet there when you need them.
NB: The gaping hole when visiting in warmer months is the lack of a swimming pool. The owners and management are hoping that Summer 2011 will see the opening of the Winvian pool and lunch/snack bar for al fresco chilled dining. Can't wait to return...this special place is Worth It!
Cottage Rates from $650-$1,250; All-inclusive from $1,250-$2,600 per couple.
Very pricey indeed - most who have the budget (or no budget) agree... Worth It!
Tel: +1 860 567 9600
www.winvian.com
Winvian
155 Alain White Road
Morris, Conneticut 06763