The earrings are simple -- a thin piece of pink plastic, almost like a small spear. They're inexpensive, not from any known designer, but they are one of my most treasured possessions. They were made and given to me by Juliet, a young Kenyan woman I met several years ago while working on an advocacy film about the effects of abstinence-only sexual education.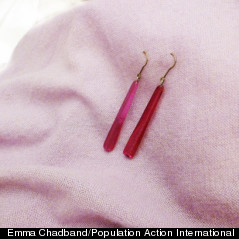 Earring from Juliet
Juliet is an extraordinary person, and the story that she shared in the film, and countless times since then, is one that I will never forget. With her permission, I'd like to share it with you now:
Juliet abstained from sex until she was 17. Before having sex with her boyfriend for the first time, she talked to him about using protection. He agreed. But because of inadequate sexual education, neither Juliet nor her boyfriend knew how to use a condom. He removed it during sex.
Months later, Juliet found out she was pregnant -- and HIV-positive.
To say it was a shock would be an understatement. Overnight, her life and ideas for her future completely changed. She found herself confronted with a new set of challenges, as well as stigma in her community about HIV infection. On top of the stress of her diagnosis, Juliet miscarried.
Her powerful story became the centerpiece of the film, Abstaining from Reality, highlighting the importance of comprehensive sexual education for young people in a way that statistics and talking heads could not. When the film premiered in London, Juliet flew there to again tell her story in front of Parliament.
It was there that she presented me with the earrings as a "thank you," and I was floored. Not only because of her thoughtfulness, but because she had already given so much, and it is she who really deserved the thanks.
What Juliet faced would be enough to rattle anyone, especially a teenager. And yet she shared it with me, and with an international film crew -- simply, honestly, bravely -- without asking for anything in return. She shared because she wasn't thinking about herself, but about other young people who could benefit from the lessons she had so painfully learned.
"I did not go through all what I went through for nothing," Juliet said. "It must be to educate others and empower them to make informed choices."
Whenever I wear the earrings, they are a tangible reminder of Juliet's generosity and selflessness in telling her story despite the backlash and stigma she knew she could face as a result. Her story is a gift that touched thousands of people, inspiring action. PAI screened the film for European policymakers, who were concerned about how the U.S.' abstinence-only restrictions on HIV funding were affecting their own aid in sub-Saharan Africa.
Her story was also brought to Capitol Hill as part of a successful campaign that softened the abstinence-only earmark for U.S. HIV funding, providing much-needed flexibility for HIV prevention programs in developing countries, and allowing young people to get more comprehensive information on contraception. When funding was reauthorized in 2008, the abstinence-only restriction was relaxed for good.
Juliet's generosity also inspired generosity in others. Continuing the cycle of giving, PAI staff organized a fundraising drive to support this ambitious young woman and send her to college. Juliet graduated from Kenya's Daystar University in 2011 with a diploma in communications, and is currently pursuing a higher degree in public relations and advertising. She has also started her own graphic design business, Hephzibah Creations, and written a memoir about her experiences titled "Wounded to Heal."
Juliet also continues to be an advocate for reproductive health education, and for all people living with HIV. Just last week, she visited her former high school to share her story with young women there, and is starting a support group at Daystar for people living with HIV or disabilities. In talking to other young people, Juliet says she tries to convey a message of hope, that it is possible to live normally with HIV and pursue your dreams. She also emphasizes that they have choices, and that they can help push back and eradicate stigma in their community.
"I shared my life and you could hear a pin drop in the class," Juliet said. "I guess they were wondering how I got the boldness to talk so openly about my life."
I don't know how she got it either, but I am honored to have been one recipient of this most special gift. Juliet continues to inspire, and serves as a reminder that when you give of yourself, there's no telling what might happen. We'd all do well to follow her example.
This post is part of a series produced by The Huffington Post and the NGO alliance InterAction in celebration of #GivingTuesday, which will take place this year (2013) on December 3. The idea behind #GivingTuesday is to kickoff the holiday-giving season, in the same way that Black Friday and CyberMonday kickoff the holiday-shopping season. We'll be featuring posts from InterAction partners all month in November. To see all the posts in the series, visit here; follow the conversation via #GivingTuesday and learn more here. For more information about InterAction, visit here. To see what Population Action International is doing for #GivingTuesday, click here.