That is, dancing with the "stars" below from Evergreen Hospital in Kirkland, WA; Beaumont Hospital in Grosse Pointe, MI; St. Vincent's Hospital in Erie, PA ; Indiana Regional Medical Center in Indiana, PA; Greystone Healthcare Management (27 locations); and Hilton Head Hospital in Hilton Head, SC.
On February 25th from 9 a.m. to 2 p.m. thousands will be flash dancing for their health. Click here to find the location nearest you. If you've had a heart attack click here.
Which reminds me: my mother recently rented an apartment in an assisted living community. I asked her if she had her eye on any cute guys there. "Heavens, no!" she said. [Apparently 45 years of marriage to my father, a really good dancer, was enough for one lifetime.] "I'm not interested," she reiterated, "except to dance."
So get up and go. Or sit and watch the six featured video dances below (and then get up and go).

Evergreen Hospital's Heart Health Dance, Evergreen, Washington, www.evergreenhospital.org
Beaumont Hospital, Grosse Pointe, Grosse Pointe, Michigan
St. Vincent's Hospital, Erie, PA
Indiana Regional Medical Center
Greystone Healthcare Management manages 27 skilled rehab facilities throughout Florida, Indiana and Ohio
Hilton Head Hospital's Heart Dance, Head, SC http://www.youtube.com/user/HeartMAA
Photos via Getty; video via YouTube
---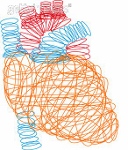 Heart attack survivors, please click here to take the Yale Heart Survey aimed at reducing the time victims delay before calling 9-1-1 or going to the hospital. If you haven't had a heart attack, click and forward to someone who has had one. . Thank you.
Disclosure: Suzanne O'Malley is a Sr. Research Associate for the non-profit NIH-funded Yale Heart Study. Applications are open to her creative & screenwriting weekends & summer classes at Yale Writers' Conference & Yale Summer Film Institute.
For more by Suzanne O'Malley, click here.