In my baby book there is an empty page titled "About The Day You Were Born." And on the page where my birth certificate belongs, there is a handwritten note detailing my ethnic background with a picture of the day my parents brought me home, at 8 months old, from the Catholic Adoption Agency in Cleveland, Ohio.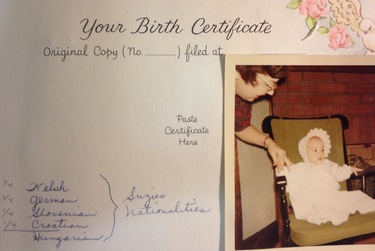 Eighteen years ago, without the sealed records of my birth and adoption, I searched for and found my birthparents. Putting the pieces of my past together filled the empty spaces in my life. Finding my family moved my future forward.
Yesterday, Ohio governor John Kasich signed Substitute Senate Bill 23 into law -- allowing 400,000 adult adoptees access to their original birth certificates, giving thousands of adult adoptees the same opportunity to find their family, to find peace.
Adoption Network Cleveland founder Betsie Norris helped me to search for and find my birthparents. The process was a puzzle that took months to piece together. In the final days, I spoke to other mothers who gave birth at the hospital on the same day I was born. I spoke to friends and extended family of my birthmother, trying to match specific identifying information found in the bits and pieces in my records that we had access to.
Betsie Norris has been working tirelessly on this cause since founding the The Adoption Network Cleveland in 1988; ultimately she will be responsible for this new law. With detective-like tenacity, Betsie and I worked long-distance to find my birthparents, but from the beginning she counseled, "You have to be happy with who you are in your life -- and not expect anything from your birthparents and you have to be OK with potential rejection." I was all of these things. I was ready -- I was just missing parts of my life.
I grew up being loved by my adoptive family, but with empty spaces in my own heart; I felt different and sometimes distant from the family that raised me. I craved sameness, and with my search I found it.
I found a father who had my eyes, and a birthmother who, when we met, kissed me on the cheek, with my very same heart-shaped lips. The process of finding my past and connecting with my birthparents helped me to find my future. The completeness I finally felt made me a better wife and mother.
I was fortunate enough to reunite with my birthparents and co-present, with my birth father, the keynote address at the 30th Annual American Adoption Congress, Adoption Network National Convention. Standing in front of a room full of people, I told my story from start to finish -- with no empty spaces.
I understand there is no greater love than the love a mother has for her child. I also understand the amazing commonalities that come when you share a genetic link.
I understand that adoptive mothers make a choice. They choose to reach deep within, to authentically love, call their child their own, to protect, to nurture as their biological own. They know no difference, fully loving their child who was born from their heart.
But that chosen, adopted child should be allowed to someday choose too -- to discover their own past that may complete and unfold their future, and to know the biological parents they were born to, before they were born -- into another one's heart.