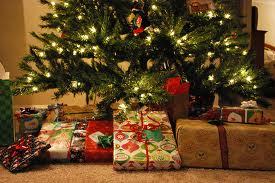 Which one is my birthday gift?
Those born in December get the short end of the seasonal stick. Of course, it's hard to imagine Brad Pitt, Jay Z, or Taylor Swift as coming up short of anything. Still, those whose birthdays compete with Christmas deserve their full moment in the sun... uh... snow. Let us honor those of the "joint" celebrations and the "combo" birthday/holiday gifts.

I'm an August baby, but how well I've witnessed the woes of the December born. You call to make a dinner reservation only to be told, "Oh, we're closed that night for a private holiday party." It's a lifetime of sharing the limelight with corporate events.
You buy two gifts for the rest of the world, but often, you get only one. What with the deluge of December mail, the box will arrive late anyway so you might as well put it under the tree. I marvel that so many of my Sagittarian friends never complain. Maybe it's like being blind. You can't grouse about the wrong color earrings if you don't know any better.
Some say the holidays elevate birthdays because everyone is already in a festive mood. You do enjoy a grander birthday feast since it's folded into Hanukkah, Christmas, Kwanzaa and New Year's Eve buffets. There's nothing like a Buche Noel to set a birthday cake apart! But everyone wants you to feel special, so rightfully, you should have your own cake. On the groaning sideboard, it's the one with the candles.
Frankly, most of us never have to compete against a major holiday. If a birthday shares the same month as St. Patrick's Day, Cinco De Mayo or July 4, it's full steam ahead with a theme party. But Christmas? It's hard to beat the original star of the show.
The December child can only bob along in the wake of holiday fun. Early January birthdays might even be worse. They straggle in after most folks are feted out and broke from gift giving. If people are celebrating anything after New Year's, it's the final clink of champagne glasses. Offer up a piece of birthday cake and witness the flight toward Weight Watchers like lemmings to the sea.
No one has control over a birth date, so what about those astonishing folks who marry near Thanksgiving or Christmas? People! Pace your presents! Is a winter wonderland wedding worth a lifetime of anniversary parties and double booked guests on the same night? A friend of mine married on Thanksgiving Day. The following year, she complained when her husband wanted to eat turkey with his family.
"Don't you think he should do something special just with me on our first wedding anniversary?" she asked.
Scratching my un-Solomon-like head, I said, "Gee, I don't know. The holiday feels bigger than the both of you."
Honestly, pick a different holiday for a wedding. If you sneak away for a solo anniversary celebration on July 4, no one will ever begrudge you a missed BBQ. Claim the July fireworks as your very own!
Wait a minute. This is supposed to be about giving undivided attention toward the December-born! Sorry, I'm easily distracted away by the shiny and sparkly, but then you must be used to that.
Despite shared billing and combo gifts, you December folks are extraordinary. My friend Deana holds a huge birthday/Christmas Eve party and she does most of the cooking! Ginger was always happier giving gifts than receiving them. My best friend Vivian celebrates in style on Dec. 16, even if she can't get a decent dinner reservation. You can't keep them down. Late winter babies are natural born revelers.
Truly, you are special and set apart in our hearts. Keep that in mind as you cull your birthday cards from the holiday mail. In the darkness of winter, you bring light and laughter to many, and a loving circle celebrates YOU.
Happy birthday to our December born friends!
Happily I was born in August.
Email Suzette Standring: suzmar@comcast.net. She is syndicated with GateHouse Media for her column and blog, Suzette's Spiritual Cafe Her new book, The Art of Opinion Writing: Insider Secrets from Top Op-Ed Columnists, will be released in early 2014 through RRP International and available on amazon.com. Suzette presents writing workshops nationally.