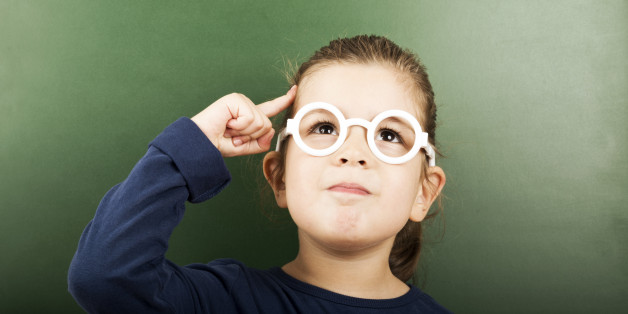 Extracurriculars have gotten ridiculously expensive, but as preschools are becoming increasingly competitive, it's important that our kids are still exposed to a wide variety of activities. So, how can you give your kids the best without paying an arm and a leg? Just build on the skills they already have. Good education begins at home.
1. Arts.
Those crayons that your baby Picasso took to the wall were just the beginnings of a mural -- and that wasn't a temper tantrum when you put him in time-out, that was just rehearsal for a future Oscar moment.
List as: Art Prodigy, Actor.
2. Community Service.
Send junior to help around Grandma's house for the day while you take some much deserved time to yourself.
List as: Assists the Elderly.
3. Clubs.
All that arguing before bedtime, the negotiating for a treat -- your little one is skilled in debate. Do you often curse in front of your child? Then obviously, he or she is fluent in French. Since neither one of those is technically a club, invite your kid's friends over for a sleepover and swear at the whole group when they keep you awake. As an optional bonus, teach them Chemistry by letting them watch you make your favorite cocktail-- because you're going to need it with that many kids in your house.
List as: President and Founding Member of the Debate Club, French Club, and Chemistry Club.
4. Hobbies.
You can get really creative here. Let your child walk on your back, and call it Studies in Holistic Health. Have him or her water your houseplants and call it an interest in Horticulture. Does your little princess scream "Let It Go" at the top of her lungs all day every day? Vocal Music. Does your 2-year-old dictate most of your day-to-day? I like to call that Life Coaching. The possibilities with this one are endless.
List as: Studies in Holistic Health, Interest in Horticulture, Vocal Music Enthusiast, and Life Coach.
With the amount you put up with, you might as well get some kind of perk for it, right? So start padding those resumes, just like you do to your own, and you're going to be rocking that "Proud Parent to an Honor Roll Student" bumper sticker in no time.
Like Us On Facebook |

Follow Us On Twitter |

Contact HuffPost Parents
Also on HuffPost:
PHOTO GALLERY
Cute Kid Notes