It would be hard to find a more congenial twosome than late-blooming lilacs and early- blooming peonies. They are compatible in color, fragrance and form. If their beauty doesn't hold your attention, their perfume will. They bring out the best in each other.
In late May and early June, when the lilacs and peonies bloom together, strolling the short walk from the house to the vegetable garden takes a lot longer. Everyone lingers savoring the beauty and fragrance they lavish on those who passes-by.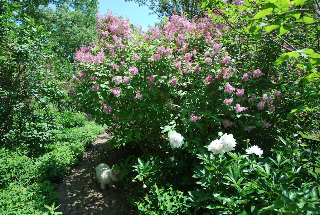 Lilacs have a traveling scent, strong, yet never overpowering. The common and the classic lilac, Syringa vulgaris, is the strongest scented species, blooming in mid lilac season; it typically blooms from 16 to 20 days. Every few years an early warm spell pushes the first peonies into bloom and their flowering overlaps with the common lilacs. It is worth waiting for, but can't be counted on.
As the classics wane, Preston lilacs, (Syringa X prestoniae) open their blooms. They extend the lilac season for another few weeks into June and perfectly partner the peonies. Most of us can't get enough of the lilac's pervasive scent and am always left wanting more.
Preston flowers differ slightly from classic lilacs; they have long, narrower, tubular florets that hang in plumes rather than larger flared sprays. Their scent, like most late bloomers, is spicy, like Rhone wine. They prolong the lilac season for another few weeks letting us down slowly. And their long bloom means they can host mid- and late- blooming peonies as well. Popular cultivars include 'James Macfarlane', 'Donald Wyman', and 'Miss Canada'.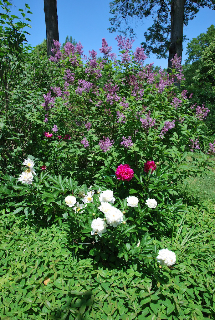 Peonies, too, have memorable perfume. Breeders classify three distinct scents-- honey, rose, and an unpleasant odor reminiscent of bitter medicine. The medicinal scent is not a traveling one. Keep your nose out of the blooms, and you'll never notice. It is usually in the pollen-bearing cultivars. Single red peonies are among the worst. However, there are exceptions--'America', a favorite for long bloom and glorious flowers, boasts a lightly sweet breath.
Fully double rose types generally have the strongest and sweetest scent. A clump of 'Festiva Maxima', an antique beauty bred in 1851, blooms with blousy bowls of double white flowers splashed with flecks of red, making it easily identifiable. This early bloomer's scent reminds some people of old roses, others of sweet talcum powder.
Peonies are perfectly content whether they are ever divided or not. They know their place in the garden and remain there without squawking. (While root cuttings of lilacs are variable, incidentally, divisions of peonies produce exact replicas).
Consequently this heavenly marriage needs so little care, and each partner makes the other look better. For example, the biggest complaint about lilacs is their ungainly growth, and bare bottoms. A gardener has to keep them in their place. Rejuvenation pruning, removing a third of the branches thicker than 2 inches every five years keeps the shrubs below 6 feet. An unkempt shrub that hasn't been pruned for decades can be taken down to 6 inches. It grows back, blooming in a couple of years. Planting peonies at lilacs' feet hides their poorly clad legs.
Don't despair if you haven't room for a path. One lilac paired with a few peonies can anchor a flowerbed, be a focal point in a front or back lawn, accent a curve in a driveway or stand at attention next to a garage. For small spaces try a dwarf lilac, which is easily kept at a rounded 3 to 4 feet. Among dwarf types are 'Miss Kim' with lavender flowers and 'Palibin', a dark pink bloomer.
The most difficult thing about combining lilacs and peonies is choosing among the cultivars. Once planted into a well-drained soil, in full sun, they don't like to be fertilized. On their lean diet they'll outlive us by a couple hundred years.