Before you hang the "garden closed" sign on the gate and sit back on your haunches, visualize your garden in winter. Is it bare beds and brown twigs? Are your conifers and broadleaf evergreens all the same color of green? Do pots sit empty until spring? If so, you are in the garden majority.
Ironically, winter is when we most need color, yet planting for winter is the last thing that comes to a gardener's mind. The first few decades I gardened it never crossed mine. Yes, I'm a slow learner. Now I'm racing to catch up planting trees, shrubs, perennials, grasses, and bulbs that shine in winter. Frankly, our moods and outlooks often reflect the dreary weather. Sure, a good snowfall gets your heart racing. Its beauty uplifting. Unfortunately dark, drab, dull days are in the majority and they often lead to glum spirits.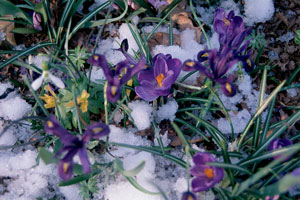 So, over the last decade I've added bright colors in all forms -- structures, containers, ornaments, wreaths and plants. It makes a big difference in my spirits in winter.
So before putting the garden to bed, take a walk around to see what plants add to your winter's beauty. Notice where there is room for more. Since we spend more time indoors check the view out from where you sit and read or pay your bills, or stand to wash dishes. Ask yourself, does the view hold my attention in winter?
If your winter views are discouraging, now is the time to add winter beauty. Bring in a little sunshine by planting a golden conifer. Gold foliage splashes sunshine on the ground despite the weather. Better yet, weave a tapestry of colors with a grouping of three evergreens -- a blue, gold and green one. The contrast of the three accentuates the gold. Actually even the tiny golden berries of deciduous or evergreen holly, make a difference. (Birds can denude a red berried holly before you cut some branches for the holidays but they leave gold berries for last. They must not be as tasty.)
To warm up a frosty landscape, plant red twig dogwood and coral bark maples. They glow fire engine red even from a distance. The red fruit of crab apples, rose hips, and deciduous hollies are subtler but effective. Heavenly bamboo (Nandina domestica 'Harbor Dwarf') a compact cultivar, rounded like an ottoman, displays scarlet foliage while its cousin 'Wood's Dwarf' dresses like a punk rocker in loud shades of red, orange, lime, purple and amber.
Winter hazels are shrubs with flowers in an assortment of bright colors -- orange, yellow or red -- and they bloom for a month or more in January, February or March. Even on icy days their fresh perfume wafts on the air. The flowers look a little like confetti left hanging on the branches after the party is over, and that is probably why they make me smile.
Speaking of smiles, nothing beats the early bulbs and their shenanigans. Snowdrops, winter aconite, and crocus are the garden's equivalent of the Three Stooges. Knocked down, pelted, and frequently wearing silly hats of ice and snow, they stand up again and again, never knowing what hit them.
Scilla, glory-of-the-snow, dwarf iris, puschkinia and grape hyacinths are bulbs whose blooms follow close behind. All these bulbs are small but planted en mass, they sparkle on the ground like an overturned jewel box. These first bloomers are inexpensive and a wise investment. They naturalize and compound yearly, yielding more blooms each year.
Ornamental grasses are more subtle. If you don't cut them back until late March their bleached blond tresses sway in the breeze topped with snow and ice. Their seed heads attract and feed the birds -- a show in its own right.
No time to plant? For a quick seasonal fix, fill pots with an assortment of cut greens and berries. Use them as focal points out a window or at an entrance to the house. An empty container filled with soil and left in the garden shouts that something is missing. Poke in an assortment of branches, conifers, broadleaf evergreens, rose hips, berries, maybe even dried flowers or brightly spray painted allium seed heads. The cold air and moist soil keep them fresh for months. Better yet, hang an arrangement of cuttings from your porch or arbor. Hanging baskets are not just for summer.
Looking around most neighborhoods in winter, the predominant colors are dull -- browns, beige and green, not exactly ones that get your heart racing and draw you outside. Adding some bright colors to the landscape does just that. Most people don't realize how easy it is. If one house on the block adds winter color, others will follow. It is catching. And then winter will be a carnival of color and our collective moods will brighten.