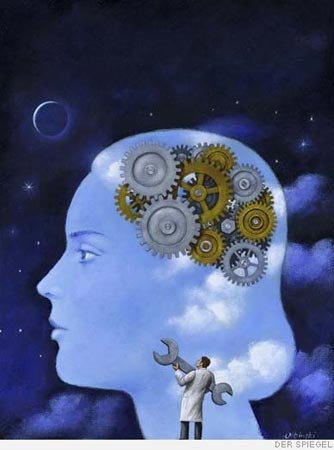 Not long ago, I nonchalantly remarked to a family member that my son's kindergarten teacher was in therapy to deal with emotional repercussions from her divorce. Despite being from a generation that rarely considered therapy, her response nevertheless took me aback.
"A kindergarten teacher in therapy?" she queried. And then, with a discreet tsk, tsk, she added, "How sad..."
Normally, I might have pontificated on why being in therapy demonstrated strength not weakness. My flinty response surprised even me.
With a tinge of irritation, I abruptly pronounced, "Well, having spent almost 15 years in and out therapy myself, I'm hardly in a position to judge."
It also helped me appreciate the point Liza Long so passionately made last December at her TEDx talk in which she discussed the now infamous blog post she penned after the Newtown shootings about being the parent of a child struggling with mental illness: that the archaic stigma that continues to hover over mental illness will begin to dissipate only if and when people are willing to come out from under the covers and add their own personal faces, voices and stories to the discussion
My disclosure, that yes, me, someone this person had known for many years to be a high-functioning, educated mother of three, had sought psychological assistance, did more to dispel a distorted perception than all the statistical explicating I could have mustered.
"So if we want to tackle a broad range of social pathologies and inequities, we as a society have to break taboos about mental health. There has been progress, and news organizations can help accelerate it. But too often our coverage just aggravates the stigma and thereby encourages more silence."
He couldn't be more right.
Reflecting on the possibility of gun seizure laws impacting those not struggling with mental illness, attorney Rachel Baird was quoted as stating that sometimes the law "reaches pretty normal people."
That's like labeling someone with diabetes as "not normal."
Or, at least it should be.
To casually and publically refer to those without mental health concerns as "normal" is thoughtless and perpetuates the myth that mental illness is shameful.
It's one thing when ill-informed family members remain bound by a stigma; it's another when presumably educated folks working in our legal system remain equally bound.
Despite the well-known personalities who have been willing to put a public face on their struggles with mental health -- Jim Carrey, Mike Wallace, Billy Joel, Herschel Walker, Jane Pauley, and William Styron to name a few -- progress remains slow.
Einstein was spot-on when he said, "Imagination is more important than knowledge."
What enables people to effectively "imagine" suffering maladies such as cancer or heart disease is less a matter of statistical awareness than it is the fact that most individuals are well acquainted with afflicted relatives or friends who are open and honest about their situation. Since, to some degree, people can imagine themselves in similar peril, these conditions largely get the attention and respect they deserve.
According to Mr. Kristof, "These mental health issues pose a greater risk to our well-being than, say, the Afghan Taliban or Al Qaeda terrorists, yet in polite society there is still something of a code of silence around these topics."
Fortunately, "normal" folks like Liza Long and certain kindergarten teachers are gradually breaking that code of silence and paving the way for others to imagine a world in which they can freely share their struggles with anxiety, depression, bi-polar disorder or any other mental health concern without fear of a misguided "tsk- tsk."