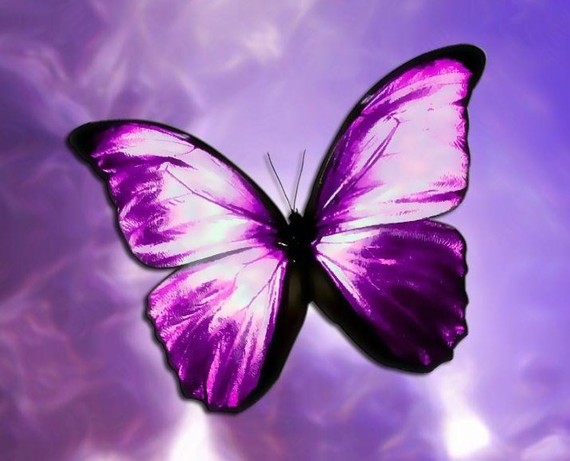 Six year old Dylan Hockley liked to "flap." When excited he would often flap his arms repeatedly like butterfly wings -- a behavior common among some children with autism, which Dylan had.
While Dylan is no longer with us -- he was killed on December 14, 2012 along with nineteen of his classmates in the Sandy Hook Elementary School shooting, in many ways his flapping lives on as is evidenced by the butterfly effect this little boy is having on so many around the world.
The Butterfly Effect is a term used to describe how small changes to a seemingly unrelated thing can affect large, complex systems. The term comes from the suggestion that the flapping of a butterfly's wings in South America could affect the weather in Texas.
Following the tragedy, Dylan's parents, Ian and Nicole Hockley wanted to set up a foundation in memory of their son. With the help of friends and family who knew Dylan well -- his love of computer games, the color purple, his infectious laugh and his big blue eyes, a foundation aptly known as Dylan's Wings of Change was created. The foundation is devoted to helping children with autism and other related conditions reach their full potential.
Shortly thereafter, a group of Newtown martial artists who knew the Hockleys, proposed that a team for Dylan be entered in the May, 2013 Ragnar Relay, a roughly 200 mile, day and night relay through Cape Cod Massachusetts.
While knowing nothing about Ragnar and enmeshed in a fog of grief, Ian, Dylan's father, remarked that he often did find "peace in the empty space of running."
Subsequently, the first Dylan's Wings of Change group was entered in the 2013 Ragnar with a team of twelve runners. The team raised $20,000 which went to the foundation's sports and arts grant program.
Thus, the "effect" began to take shape.
By 2014, there were five teams running, and next month, Ragnar will see nine teams: 120 people -- running 190 miles -- non-stop throughout the night.
"I am running for Dylan," says one team member, "in the hopes that someone will see me huffing and puffing my way through the race and wonder, 'Who is Dylan?' I hope this question will follow them home so that they in turn will Google 'Dylan's Wings of Change.' If autism has not touched their lives, chances are it has touched the lives of someone they know. It will be then be up to them to act. I believe in the butterfly effect. I believe this is how it happens."
Brian, a Newtown resident, is running because, "Our lives are completely different since December 14, 2012. I pay more attention to kindness. I'm more aware of our kids, our world, of the fragility of life."
Phil traveled from the UK to run for Dylan in 2013. He's returning this year and this time will be on the six person ultra-team.
Annie has run for Dylan on many occasions raising thousands of dollars for childhood autism -- including for those in her hometown of Bronx, N.Y.
The Resiliency Center of Newtown, founded by a community member as a way to offer long term healing to Newtown residents, has formed a team of 12 women from seasoned marathoners to novice runners, each with their own unique story of why they are compelled to run for Dylan.
Dan does not know the Hockleys, has never run a relay and has little connection to autism other than a co-worker with an afflicted child.
Inspired to give the race a go by a friend, Dan remarked, "I've never been connected to anything meaningful before -- most things seem too big and insurmountable. I can put that I'm running for Dylan on my Facebook page though, where it will go out to hundreds."
"People who come forward give you the impetus to keep going," says Ian, Dylan's dad.
"Across the population," reflecting on the ripple effect he and his wife have been seeing as they work to honor their son's memory, "something triggers something inside and a person makes that connection with Dylan and autism in one."
Is it unreasonable to imagine that a child or children in one part of the world may be helped, simply because one person in another part of the world decided to run a few miles?
Not if you believe in the butterfly effect.