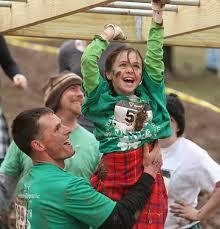 Dan Williams did not lose a child in the Sandy Hook, CT school shootings. Still, he describes himself as having been "utterly devastated" by the senseless 2012 massacre that took the lives of six educators and twenty first graders, including young Daniel Barden, the son of Dan's friends, Mark and Jackie Barden.
"I cried more than I did when my mom died," Dan told me, "and I was very close to my mom."
Dan's reaction was not atypical. Many were similarly devastated and, like Dan, compelled to "do something."
What is atypical though is the way in which Dan decided to help. While many offered time, money, counseling, meals and tokens of love, Dan Williams designed a Mud Festival.
Although Dan is not from Newtown, he lives in upstate NY in the small town of Deansboro, he recognized from the start that "community is community" whether it's Deansboro, NY or Newtown, CT.
What better way, felt Dan, to demonstrate the healing power of community than to join folks together with friends, neighbors and strangers through a challenging adventure with the common goal of honoring one boy's life?
With his family's blessing, Dan redirected their vacation fund, and in less than four months, built by hand, a 5K course with obstacles including mud-filled pits, water-logged terrain hills, monkey bars and ropes courses. In the spirit of the traditions of Daniel Barden's Irish family heritage, many participants wore kilts.
The event, ultimately titled The Daniel Barden Highland Mudfest, drew 3,000 people.
And, Dan's back at it again. April 5 will mark the second annual Daniel Barden Highland Mudfest.
Nice, but in light of what happened in Newtown, is this really so important?
After all, with the ongoing therapeutic and financial needs that typically follow a community tragedy -- not to mention the tireless efforts underway to eradicate gun violence -- why put time and energy toward what is ultimately a bunch of folks traipsing through the mud?
Transcending politics or divisiveness, and with no "experts" and no agenda, other than to honor the life of a kid who loved to get dirty, the Mudfest manages to offer the one thing we need most if we are ever to evolve into a more sane society -- and that is genuine human connection.
Dan Williams appears to instinctively understand what Dr. Bruce Perry, who, as far as I'm concerned, wrote the book when to comes to understanding trauma, says about the aftermath of tragedy:
"The most traumatic aspects of all disasters involve the shattering of human connections."
Over the course of that messy run, people's differences disappeared. Many who arrived simply to volunteer or show support, left feeling something much deeper had just happened.
When Newtown resident, Cap Pryor wildly misinterpreted the distance to the Mudfest, he had to set out at two in the morning.
"As I drove through the night, I wondered if I had made a big mistake," remarked Cap.
Dawn found me on a large farm set amongst beautiful rolling hills. More and more people began to show up and soon the place was alive with energy, laughter and Celtic music. My overnight fatigue faded with every slap of my shoes in the mud. I was being carried through the great course by the good spirits and kindness of hundreds of my new friends. I felt flush with accomplishment at the end of the great race.
Michelle and Matthew Wood from Rome, Georgia, who learned about the run on Facebook, are making the 18 hour trip this year as a way to celebrate their 10th wedding anniversary.
Jackie Barden told me that last year, she and her husband Mark almost could not get out of their car, so overcome were they when they first arrived in Deansboro. After all, this was just four months after their son was murdered. "We were numb," said Jackie. "We didn't know what we were doing."
A few hours later, as Terrance Ford, a large, hulking, no nonsense guy from Newtown, tried vigorously to pull off Jackie's mud soaked boot, Jackie found herself laughing.

"Every day, my family faces seemingly impossible obstacles since our little Daniel was taken from our lives," said Mark Barden, Daniel's father.
The Mudfest gives us a very physical opportunity to turn those daily challenges into tangible triumphs, as we work together to complete the course and push ourselves in honor of the very active boy we lost far too soon.
There is a photograph of Mark and Jackie's daughter, Natalie, at last year's Mudfest, beaming with delight as she is helped across one of the mud run's obstacles. That she could feel such pride and elation, even if it's fleeting, just four months after she lost her beloved brother is a testament to the restorative power of such opportunities.
As science gradually proves how positive connection with our fellow human beings can literally shape our bodies and minds, the phrase: "We are all in this together," becomes much more than just a feel-good expression.
"With human relationships," writes Dr. Bruce Perry, "We can both create and destroy, nurture and terrorize, traumatize and heal each other."
Dan Williams, in fewer than four months, created, nurtured and healed -- something I've seen some of the best intentioned "experts" fail to accomplish in over a year.
Amazing what a little mud can do.
For more info visit: http://www.bardenmudfest.org/website/publish/register/index.php?2