You can feel the sand between your toes and the sunscreen on your nose when Bethany Cosentino sings any song off of Best Coast's 2010 smash album Crazy for You. The surf sound melts into girl group giddiness with an unpretentious, garage-derived approach that is perfect spiritual uplift for this moment of economic downturn. (BC makes me wish someone would have thought to have sounded exactly like this during the long, hard slog of the Bush administration. I'm thrilled to have it now.) Songwriters like Cosentino keep proving that the girl group genre has layers of nuance inside its snappy sound when a woman is authoring the outcome. Cosentino, bassist Bobb Bruno, and drummer Ali Koehler added covers from Loretta Lynn ("Fist City") and Lesley Gore ("That's the Way Boys Are") to their live set to pay homage to the female forces that pioneered their sensibility, their sound. They added guest turns by John Brion on keyboards and Bethany's dad on drums as special gifts to their hometown Hollywood crowd.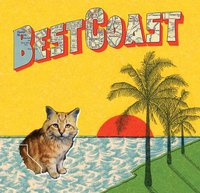 When music lovers learn that of 605 persons inducted into the Rock and Roll Hall of Fame in Cleveland, only nine percent are women, they'll want the Hall to make moves to guarantee that the contributions of their favorite female rockers of the past are acknowledged, and to assure that the future of music features an abundance of female writers, musicians, engineers, producers, executives. In May of this year, the Hall will feature a huge tribute to women rockers that might prove a first step toward more inductions. In the lobby of The Music Box in Hollywood, where Hunx and His Punx and Wavves took the stage to warm up for Best Coast, there was a table with information about rock-and-roll camps for girls and women. Earlier in the day, a conference devoted to the consideration of gender, race, and sexuality in popular music took place on the USC campus. It was a kick-off to the prestigious EMP POP Conference, taking place at UCLA from Feb. 25-27, free to the public, with musicians, journalists, academics, producers, music industry executives, convening to explore the theme of money in the music industry in 2011.
This year marks the first time the conference has taken place outside of Seattle, where a wonderful musical museum, situated under the Space Needle, houses Jimi Hendrix's guitars and many more exhibits devoted to the power of popular music. On April 16, 2011, EMP will open a special show called Nirvana: Taking Punk to the Masses. The merch for this is already available in the EMP Gift Shop, where a Sex Pistols lunch box sits next to an Alice Cooper one, adjacent to a wall of t-shirts arguing the exhibit's thesis: Bad Brains, Bad Religion, Buzzcocks, Minor Threat, Misfits, Offspring, Ramones, Sex Pistols, The Clash, Nirvana.
Wavves wants to claim the artists on this list as relatives. San Diego native Nathan Williams, along with former Jay Reatard bassist Stephen Pope and ex-drummer for the Mae Shi Jacob Cooper have surf pop's fun, fun, fun, and eat it too. They can't escape kinship with the despair of the Jay Reatard (May 1 1980-Jan. 13, 2010) of "It Ain't Gonna Save Me." The nuances of noise-pop on Wavves' recordings give way to SoCal punk in performance. The video of Wavves' boyish cover of Black Flag's "Nervous Breakdown" shows hardcore as one of their many touchstones. The model of Henry Rollins allows Williams to complain directly. He takes that up in "So Bored." In "Post Acid," off the strong King of the Beach album, he sings about having fun with misery. ("Misery, won't you comfort me in my time of need?") When there is an acute contradiction between what you say or sing and the darker reality you really mean to reference, that's good, old-fashioned irony. Nathan Williams pounds the agony and irony that Cosentino writes, and sings, her way out of, and ultimately laughs off.
Williams appears to have been born in the lonely confines of Brian Wilson's "In My Room." The Beach Boys, from Hawthorne, CA, where there is no beach, built oceanic anxiety into pop tunes like "I'm Bugged at My Ol' Man" or "Don't Worry, Baby." Once you hear these, you know someone needs more help than anyone named Rhonda can ever give. In his Bartman t-shirt, Williams performed as the worried baby of Brian Wilson, Black Flag, Blink-182, DIY maestro Ariel Pink, and all of Best Coast's forebears. The surf sound relies on many elements, Dick Dale-derived reverb chief among them. His "Let's Go Trippin'" could be considered the first surf single. Reverberation is, of course, the persistent sounding of sonic echoes after the originating sound is no longer present. Echoes increase. Echoes decay. Cosentino's guitar and voice deliver songs of love that showcase the increase as optimism. Some mystics and physicists assert that a sound once made keeps sounding forever like Cosentino's passion in "The End." ("You say that we're just friends/but I want this til the end./Til the end. Til the end. Til the end. Til the end.") But Williams and Wavves won't let anyone forget about how everything decays.
Best Coast and Wavves continue on tour: myspace.com/bestcoast
For info on girls'/women's rock camps, check out girlsrockcamp.org/programs/ladies-rock-camp
Explore the Rock and Roll Hall of Fame at rockhall.com
More on punk and pop at MusicMindZone.com