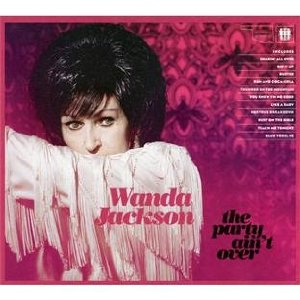 With her brand-spanking-new Jack White-produced album, The Party Ain't Over and the fun performances supporting it, Wanda Jackson, 73, is making her case not for mere rock and roll relevance in 2011, she's cementing her status as royalty. She's still got her trademark genius growl. A voice like no other. As a 1950s Rockabilly pioneer, her sexy sound, her way with a guitar, her wicked moves on stage, and dark drop-dead good looks made her a genuine Elvis equivalent. But her only number one hit, "Fujiyama Mama" happened in Japan, not the U.S. The decade demanded that women appear to be docile Doris Days. But the world keeps waking up to its craving for Hard-Headed Women.
It is fitting that her set at LA's El Rey opened with "Riot in Cell Block #9" because Jackson is the ancestral force that busted out your favorite edgy rock females. (Who's on your list?) She helped make Debbie Harry, Chrissie Hynde, Tina Turner, Poison Ivy, Siouxsie Sioux, Patricia Day, Kathleen Hanna, Alison Mosshart, Peaches, Madonna, Britney, Beyonce, Gaga, Pink, Lykke Li -- every woman who steps on a stage with her sex drive in the driver's seat-well, she's got Jackson to thank for getting her out of gender jail. Jackson moved charmingly through her El Rey set, belting out "Busted," and "Mean, Mean Man" and slid into Amy Winehouse's "You Know I'm No Good." She edited out some of Winehouse's lyrical candor. "Thinking on you in the final throes/This is when my buzzer goes" and the lines that precede it hit the cutting room floor but the song burned like an acetylene torch anyway.
It is remarkable to hear any woman of any age carry off this confession. That you can throw this version on your turntable, watch the pink vinyl go around and around in endless self-reproach, and forget that it is a senior citizen singing it, attests to Jackson's enduring talent. And when she rocks Little Richard's classic "Rip It Up," it seems possible to think that hurt he put, and she put, on two different types of discrimination still has force we can use in the here and now. Jackson did a masterful job live on her many fine oldies, including "Funnel of Love," a song compellingly covered by Social Distortion's Mike Ness in a raw tour de force of male yearning, male need. (Check out his Under the Influences and note Social D has a new album/tour, Hard Times and Nursery Rhymes.) The Third Man Band featured stand up bass, steel guitar, a trio of badass horns, two sweet back-up singers, Black Belles' Olivia Jean playing bass in a pretty party dress, and more.
It's fun to think about how the mariachi sound on Johnny Cash's version of "Ring of Fire" or White's own cover version of Patti Page's "Conquest" with The White Stripes on Icky Thump informed the dirty horns that are all over The Party Ain't Over. White's iconoclastic arrangements for Jackson make Rockabilly or Country tunes sound authentic without being paralyzingly retro. Wanda Jackson's work provides an occasion to celebrate the vibrancy of Rockabilly/Psychobilly in all its forms from The Cramps and The Blasters and The Meteors through Demented Are Go and the Bad Boy/Pin-Up Girl subculture that keeps this music at the heart of their Saturday night stumblings in 2011. Wicked Good! Jack White appears to bear all of this in mind. His guitar is the voice box for a creativity simultaneously respectful and radical. White's guitar solos genuflect to a tradition he cherishes yet he detonates violent, and brilliant, garage punk flares, flair, fuzz, to keep things literally "Shakin' All Over."
Goddess Wanda Jackson appeared both moved and amused as supplicant Jack laid at her feet the energy of MC5 or Ron Asheton or Bad Brains, as if trying to prove that rock's extreme modes -- what it does best -- are the end result of the party she started. White's work with women, Meg White, Loretta Lynn, Alison Mosshart, Alicia Keyes, Karen Elson, Wanda Jackson, is a defining feature of his originality as an artist. If you've followed The White Stripes from the beginning, you've noticed that the only quality that exceeds the endearing geeky bossiness he shows around women is an abject awe that appears to motivate every Hall of Fame thought that pours through his guitar or drums or choices as a writer/producer.
When the Tucson tragedy happened recently, and every thinking person was forced to grapple again with the various ways our culture fails, I tried to scare up evidence of where it has had some real successes: in my lifetime, the races and the sexes have made good faith moves to regard each other differently, more respectfully. There's still mystification and incitement and heat of various kinds but progress has been made. When I watch Jack White with Loretta Lynn in the video they made for her song "Portland, OR," off her Grammy-winning treasure, "Van Lear Rose," I credit the possibilities for reciprocity that now exist between the sexes although too few imbibe. We can offer ourselves a hasty half-congratulations as we move forward together, needing each other. And let's share "a pitcher to go."
Wanda Jackson's tour continues with a second sold-out night night at LA's El Rey, a continuing tour, and an appearance on Conan 1/25/11. Info at: http://www.thirdmanrecords.com
Haunted George warmed up with gruesomely good Gothabilly guitar.
This post is dedicated to the memory of Lux Interior who passed away suddenly in 2009 in Glendale, CA and remains in the hearts, and howling through the headphones, of the legions of Angeleno fans of The Cramps.