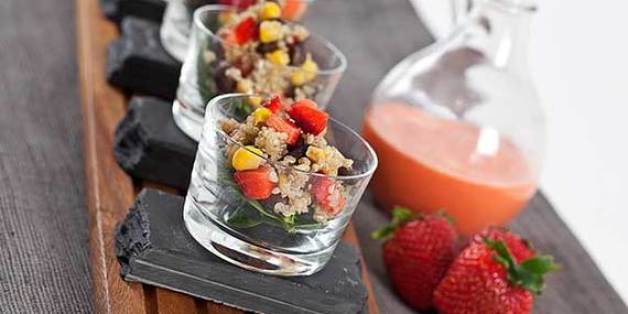 Many of you are probably feeling guilty for indulging during the Holidays but here is another opportunity to re evaluate those New Year's resolutions. National Nutrition month is the perfect time to re-focus our health needs and kick-start our health goals.
Making healthy lifelong lifestyle changes does not have to be an overwhelming process, but it is an important process. For those in the Hispanic community, we need to make long-term lifestyle changes that help prevent or beat chronic conditions we struggle with such as obesity and heart disease.
Here are some simple and doable tips to make sure you are successful at becoming a healthier, happier you this year:
1.
Eat What You Love; Eat What You Enjoy
,
But Be Smart About It:
Remember that all foods can fit into a healthy diet. Just keep in mind the common-sense principles of balance, variety, substitutions, and moderation. To avoid what I call the "eat-repent-repeat" cycle, think about the following:
Balance: Balance eating for enjoyment with eating for nourishment.
For example, at breakfast, instead of eating a biscuit or doughnut that leaves you feeling hungry in a couple of hours, try a simple yogurt parfait with whole grain cereal and fresh fruit such as strawberries. It will be satisfying and a nutritious choice. Recent research confirms that eating strawberries may help lower cholesterol and cardiovascular disease risk factors, so enjoy them in your favorite recipes. See below for a recipe sample.
Variety: Don't get stuck in a rut; eat a variety of foods to keep your diet interesting and nutritious. You don't want to get bored and potentially turn to unhealthy choices more often than you should.
Substitutions: We can always enjoy foods we love and find ways to make them healthier. For example, you like a slice of pizza every now and then? Substitute the whole-milk cheese with two percent cheese. Or, if you want a bagel with cream cheese, have it, but don't glob the cream cheese on it. Use a reasonable amount. Or, eat a whole-wheat bagel instead of white. Every little bit counts.
Moderation: It's key to long-term health. For example, if you want a burger, eat sliders. If you are a dessert lover, get a mini dessert or share your favorite dessert with everyone at the table.
2.
Take Small Steps to a Better You (Literally!):
Now, in order to eat what you love, you have to give a little to yourself by staying active. I'm not saying go from zero to 60 in a day or sign up for a marathon tomorrow, but physical activity is a very important part to a healthier you. Long bouts of inactivity can lead to health complications.
Think about the small things you could do to get moving on a daily basis. Have you ever taken the elevator up to your meeting on the 4th floor? Maybe take the stairs up next time.
Pick an activity you love already and do it more. Ever catch yourself dancing around to your favorite song? Why not do that more? It's actually burning calories and keeping you active.
3. Get Your "Numbers" Checked Regularly: As a community, we need to face the facts. The Hispanic community is at higher risk for conditions like diabetes, obesity and heart disease These can be serious health complications to live with, but we can do our part to prevent or better manage chronic conditions. Visiting your doctor on a regular basis is important to help prevent or control health conditions. Keeping a close eye on your "numbers" helps make sure you're not at risk or suffering from any chronic conditions.
4. Nutritious and Delicious Can Co-exist - The overall body of evidence examined by the recently release 2015 Dietary Guidelines Advisory Committee (DGAC) 2015 Scientific Report identified that a healthy dietary pattern is higher in vegetables, fruits, whole grains, low- or non-fat dairy, seafood, legumes, and nuts; moderate in alcohol (among adults); lower in red and processed meats; and low in sugar-sweetened foods and drinks and refined grains. Additionally, the DGAC 2015 Scientific Report 2015 Scientific Report showed strong evidence that it is not necessary to eliminate food groups or conform to a single dietary pattern to achieve healthy dietary patterns. Rather, individuals can combine foods in a variety of flexible ways to achieve healthy dietary patterns, and these strategies should be tailored to meet the individual's health needs, dietary preferences and cultural traditions.
I am sharing one of my favorite recipes to demonstrate that nutritious and delicious can co-exist!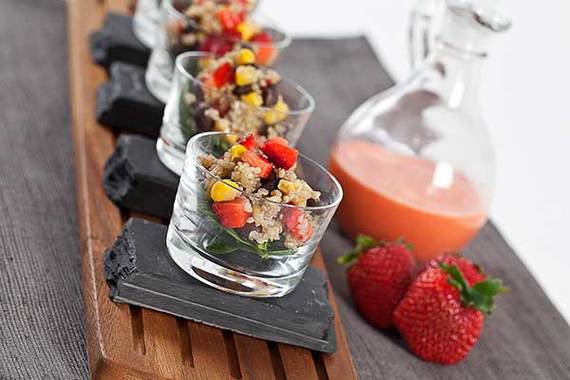 Quinoa, Black Bean & Strawberry Salad
Strawberries are perfectly paired with protein-packed quinoa
Ingredients:
1 teaspoon vegetable oil
1 small onion, chopped (1/2 cup)
2 garlic cloves, chopped
¾ cup quinoa, uncooked
1 (14.5 ounce) fat free chicken or vegetable broth (1-1/2 cups)
1 teaspoon ground cumin
¼ teaspoon cayenne pepper
Salt and pepper to taste
1 (8.75 ounce) can or 1 cup frozen corn kernels
1 (15.5 ounce) can black beans, drained and rinsed
½ cup fresh cilantro, chopped
2 cups strawberries, cut in quarters
4 to 5 cups baby spinach
Strawberry dressing
1/2 cup strawberries, quartered
1/4 cup fresh lime juice
1/4 cup olive oil
1 tablespoon honey
Salt and pepper to taste, optional
Preparation:
In a medium saucepan, heat oil over medium heat. Stir in the onion and garlic, and cook until lightly browned.
Add quinoa, broth and seasonings. Bring mixture to a boil. Cover, reduce heat, and simmer for about 20 minutes or until water is absorbed.
Stir in corn and black beans and let cool or store overnight in refrigerator.
In the meantime, mix all strawberry dressing ingredients in a blender. Blend for 30 seconds or until all the ingredients are well blended. Set aside in a small pitcher.
When ready to serve: Fold in strawberries and cilantro. Serve cold over a bed of baby spinach leaf and drizzle strawberry dressing over plated quinoa salad.
Makes:
4 to 6 salads