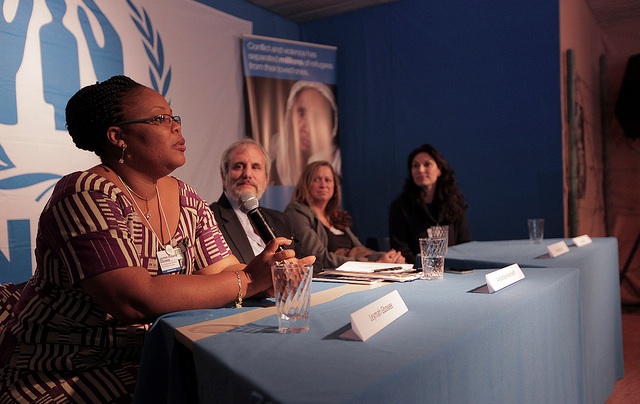 Nobel Peace Prize winner, Leymah Gbowee, shares her message of the role of women in bringing peace at a special screening of Women, War & Peace. Photo: © Thomas Williams/Crossroads Foundation Ltd
One of the most powerful ways to bring about change in the world is to use your voice.
I think of Leymah Gbowee in Liberia who led a sisterhood of brave, visionary women in a peace movement to end the brutal civil war in her country. Through her voice and her conviction, she eventually got the dictator leader removed and a woman president elected -- the first woman president in Africa: President Ellen Johnson Sirleaf.
I used to be scared to express my opinion. I was scared to sound "stupid," to be "wrong" or to invite conflict or challenge. I was always afraid that if I was challenged, I would not be able to back up my argument with facts. This is because a lot of what I knew came from deep within my soul, so this could not always be backed up by cold, hard facts.
Because of this, I was much more comfortable learning from others, rather than stepping into my dharma as a teacher and leader.
But this comfort eventually grew to discomfort. I was so uncomfortable with keeping myself small; keeping my voice hidden; keeping my truths and my power inside. I knew I was meant for bigger things -- bigger stages, bigger platforms, bigger venues. But I was not allowing myself all of this. I was terrified to stand up in front of people and voice my truth -- even though I knew this was my destiny.
How many of you can relate to this?
One of my favorite quotes is from the French-Cuban author and diarist Anais Nin. She said: "And the day came when the risk to remain tight in a bud was more painful than the risk it took to blossom." This quote has been with me for a long time. This is what I was going through.
Eventually, through my process of awakening to the Divine Feminine, I became aware of the power of a woman's voice.
I believe so strongly that it is time for women to speak and lead by example. I believe women hold the key to bringing our world into greater balance and bringing back the respect for all of humanity. I believe that when we as women join together as sisters, we can accomplish anything.
Leymah Gbowee is just one beautiful example of what we can accomplish when we stand in our truth and our conviction for a more peaceful society with greater respect for all human beings.
One of the foundational pieces to getting our voice out there in the world is being honest about our calling. What I mean by this is that many of us know that we have a big and important calling. We feel it in our hearts. We feel it in our souls. We feel it in our bones. We feel it our body and breath.
But too many times we run away from this calling because we are scared of the bigness of it. We are scared to reveal ourselves as being that grand. We are scared to step up on the stage and be visible.
All of this is very understandable. There are many reasons, particularly as women, that we want to hide. We have -- in a way -- been trained this way. It keeps us safe. It keeps us from being hurt, violated, teased, mocked and disrespected. In other words, it keeps us "out of trouble."
This hiding however is starting to backfire on us. The reason? The world is aching for feminine wisdom to come forward. The world is starving for feminine compassion and connection. The world is begging for you, as a woman, to step forward with your voice so that you can heal our planet.
As women, it is time to listen deeply to your calling. Be honest with Her. Be open to Her. The Feminine is trying to speak through you.
I know a lot of women who struggle with being clear about their message and what they are here to do in the world. My belief is that as women, we really do know, we just need to be honest with ourselves.
What is the message you feel you are being called to share with the world? Take a moment. Sit. Breathe. Relax. What is the change you are feeling called to create? Open to listening. Then write. And then write some more. Let the words pour out of you onto the paper and listen. Keep listening. And write some more.
My calling is to bring the Feminine out more in the world, particularly through women's voices and self-expression. That is why I am writing this blog.
What is the message coming through you? And who is this message for? My challenge to you today is to answer these questions honestly for yourself. Being honest with yourself will make all the difference. You have the power within your voice to change our world.
To use your voice to make change in the world, visit The Power of a Woman's Voice.