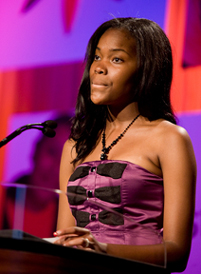 "I wake up on the morning of October 4, 2008 feeling so excited -- it's my sweet sixteen! But then the reality of where I am kicks in. I'm in an unknown territory. I hear more sirens outside than normal, I hear the neighbors arguing about where the last drop off of drugs was and who was going to change the baby's diaper. I look out of the window and see the transactions of narcotics and money from one hand to the next. I think to myself, this is why this neighborhood is called "the jungle" -- people make up the animals in a jungle fighting over drugs, property, women and even parking spots. And this was supposed to be the start of a good day."

-- Kara Isreal, winner of 2010 Step Up Teen Scholarship
In the city of angels, where one in three high school students drop out of school, Kara Isreal is one of the lucky ones going on to college next year. This statistic is alarming considering that nearly half of all new jobs created by 2016 will require a college degree. Furthermore, without a high school diploma and college degree, recent reports show that teen girls are likely to miss out on nearly $1 million in earnings over a lifetime.
The good news is that with the support of a powerful organization called Step Up Women's Network, Kara and many other young women will be heading off to college this fall to campuses around the country.
Step Up was founded 12 years ago in the living room of Kaye Popofsky Kramer, and has grown to a network of over 50,000 supporters nationwide. The organization is dedicated to connecting underserved teen girls with professional women mentors and dynamic enrichment programs to empower the girls to reach their full potential and become confident, college-bound and career-ready.
Kara, 17, began the Step Up Teen Empowerment Program two years ago. "I looked forward to Tuesdays because I knew I was going to be in a stable environment for an extra two hours after my school day," says Kara. She said Step Up offered her refuge in programs such as Spoken Word and Poetry where she was able to write down all her feelings and keep them in a place where no one could criticize, grade or comment on them. "Step Up gave me the microphone I needed to either reach out for help or encourage my fellow Step Up sisters; which includes my younger sister who also found a safe space in Step Up," says Kara.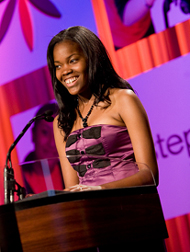 Not only did Kara find a safe space to grow into the woman she is becoming, she also won the 2010 Step Up Women's Network Los Angeles Teen Scholarship. Selected by an essay contest, she received $1,000 toward her college expenses and was invited to share her essay at the annual Step Up Inspiration Awards held at the Beverly Hilton Hotel in Beverly Hills.
On May 14, Kara Isreal read her essay to a ballroom roomful of Step Up supporters. As she shared her profound story of strength and vulnerability, there was barely a dry eye in the room. I myself was moved to tears.
The following is an excerpt from Kara's essay.
"I close the blinds, having seen enough. I start to reminisce about birthdays of the past and think about how much I always love the annual call from my granddad who enthusiastically congratulates me on making it through another year in life. I sigh, knowing that I won't get the call this year because he doesn't have my number ... NO ONE does because one month earlier, my family was evicted, and we have been bouncing from place to place, eating dinner in our car in McDonalds parking lots and on this morning, my 16th birthday, my family and I are staying in two-bedroom apartment making room for 7 people. It was supposed to be my sweet 16 but it was more like salty tears and a super wet pillow. This was the beginning of the most challenging time in my life. Things got worse from there and I experienced the unimaginable, including being raped.........more than once."
But, as Kara explains, through her pain and innumerable tears she found a way to walk with her head up and not have it hung in constant shame. Through the support of Step Up mentors, after-school enrichment programs, an internship, and a Bay Area college tour, she began to build confidence and see there was possibility beyond what had been her world in Los Angeles.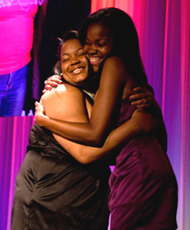 "With my success I hope to reach down and help the women behind me. We have the power to rise above our circumstances. We have the power to break down barriers and crush all statistics that rise against us. We are women of manner and nobility," says Kara.
Next month, Kara will be graduating from Gertz-Ressler High School in Los Angeles, and in the fall will be attending Bethune-Cookman University, in Daytona Beach, Florida. "My goal in life is either to become a child psychologist with a private practice helping sexual, mentally and physically abused kids; or be a part of a marketing and advertising company ... Thanks to Step Up I am already on my way and can clearly see myself achieving these goals."
All photos by Maya Meyers.
*The girl hugging Kara in the final photo is the 2009 Step Up Teen Scholarship recipient, Shalisa Craig, who is currently attending Cal State Northridge & received a 4.0 GPA during her first semester of classes (and hopefully this spring semester too).