Many incumbents are tempted to run for reelection on a Rose Garden strategy, but few put it into such muscular effect as the Israeli Prime Minister, Benjamin Netanyahu. He didn't hold a single press conference during the entirety of his previous campaign, in 2013. That's' right: not one.
In fact, he refused to meet the Israeli media from May 2012 to July 2014.
Between January of 2013, when he took three or four questions in passing before the elections to March 2014, that is, 412 days, at a time when Netanyahu offered strategically placed interviews to much of the foreign media, Netanyahu declined the opportunity to speak on-record with us, Israeli reporters.
He seems to be going for a similar effect this time around, only with a twist: this time, for reasons not fully elaborated, he wants to make it appear as if he is meeting with the media, while studiously avoiding the actual encounter.
Given Netanyahu's travails with the patio furniture in his own Rose Garden maybe we should refer to what he's doing as the Kitchen Strategy: try to pass one thing for another.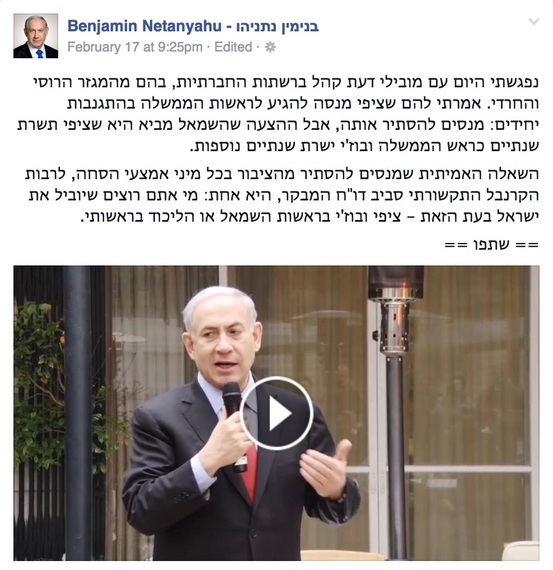 The Above Image: From the PM Facebook Page, a video in which he shows bloggers and "Internet Influencers" the shambles that is his formal residence Feb 17th, 2015
_ _ _ _ _ _
Here's one example: Last Tuesday Netanyahu invited a group of "Internet Influencers" for a cup of coffee at his falling-apart residence on Balfour Street in Jerusalem.
Nice of him, right?
Among the guests were some right-wing bloggers and opinion makers and some young professionals in the advertising business. Afterwards, some of whom posted their impressions. Among these people are a number I (Tal) know for a fact are not Likud voters.
One of the honored few, Sarah Haetzni Cohen, head of `My Israel,' a right-wing activists group (founded by MK Ayelet Shaked, the Jewish Home's rising star), summed it up thus: "I was invited to a meeting entitled something awesome like Internet Influencers at the PM's gorgeous residence today, alongside some smart and funny people. We spent an hour and a half kaffeklatching in a drawing room. We met Bibi at the very end. He was nice. It was short and unsatisfying what I guess is what it's like with heads of state. I did not ask about the settlement freeze or his speech at Bar Ilan University or why he is not using the Likud list as campaign surrogates or why his is not underscoring his achievements and only focusing on Iran and ISIS and I was not able to find out why the hell he is not attacking Yair Lapid and letting him slip under the radar."
That's right. A "media" briefing in which the only thing to report are the questions you could not ask.
Let it be noted that Netanayhu has not been interviewed for 47 days. While campaigning to serve again as Israel's Prime Minister. He has 23 days till election day.
But then, maybe, who cares? This wasn't a real press event. It was a Potemkin press event, like the Potemkin kitchen our first lady, Sara, whined about on the notorious video. (Credit for precise term goes to Paul Mutter.)
However, let it also be noted that the media does want to ask the Prime Minister questions. The ultra-Orthodox reporter Sari Roth took advantage of the occasion to ask the PM about ultra-Orthodox voting patterns as they relate to the Likud. Another Russian-speaking writer was curious regarding Netanyahu's plans for a future term and the PM replied that the real issue was fighting terror and Iran.
Then, he rebuked the latter. "You shouldn't ask what will change if we win, but what will happen if we don't! What will change is that we won't be here, and if we're not here, après moi le deluge! That's the question you should be asking!
If you want to ponder the dangers of a Rose Garden strategy, you need only ask presidents Ford, Carter and Bush I. The upside is that you can surround yourself in the trappings of office and leadership. The downside is that you can appear to waddle, and provoke people to ask if they want to keep seeing you there.
Netanyahu is not a who enjoys the media. He recently attacked an Israeli leading publisher (Yedioth-Aharonot), and those of us who have interviewed him remember a stilted encounter characterized by stiff, preset responses to real questions.
He likes to feel in control. He invites small circles of carefully selected members of the foreign media for background briefings that end up being published as leaks from a "high official." He chats to Israeli columnists like Dan Margalit amiably enough, trying to convince them of specific points knowing not a word will be written.
The danger for a Prime Minister whose entire strategy seems to be unraveling into a whirlwind of small, sordid accusations and large, public miscalculations (Congress, anybody?) is that his own people may get the message he has no interest in speaking with them.
Sorry: with us.
Written by: Tal Schneider, Noga Tarnopolsky