Talia Rosenberg received exciting news this spring when she found out she would be attending AIDS Walk Africa 2008 as the Elizabeth Glaser Pediatric AIDS Foundation's AIDS Walk Africa Youth Scholarship recipient. This year's walk took place in Swaziland - the country with the highest prevalence of HIV in the world. Nearly 40 percent of pregnant women in Swaziland are living with HIV.
Talia, who will begin medical school this fall, competed for the scholarship in an essay competition with dozens of young adults from around the world. She documents her experiences on the first three days of AIDS Walk Africa below. Read more about AIDS Walk Africa 2008.
Day 1: June 30, 2008
After a long journey (Uruguay à Argentina à Brazil à South Africa à Swaziland), I am thrilled to finally be here and joining the members and staff of AIDS Walk Africa 2008. Sadly, my luggage was a little less fortunate and is lost somewhere on one of two continents. But everyone has been very generous with their clothes, shampoo and socks, and I am hoping my pack will arrive soon. Until then, I am happy to subsist on this generosity, as the excitement and enthusiasm of everyone here more than makes up for it.
It has been wonderful to meet the faces behind the emails and the phone calls, all of the people who have worked so hard to put AIDS Walk Africa together. I feel so grateful to be able to join them and the other walkers in this unique and exciting experience.
This afternoon was filled with icebreakers and orientation activities, followed by a formal opening dinner that was attended by many local officials from the Swaziland Ministry of Health. After a delicious meal, we returned to our rooms for a good night's sleep, before an early awakening for our first day of walking!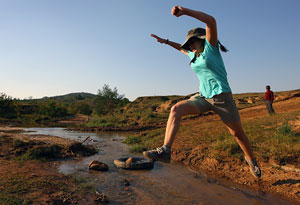 Day 2: July 1, 2008
Early this morning, we set out for the trailhead to begin the day's walk. We were met by a delegation of local representatives, including the local chief and matron, who greeted us in their native tongue, siSwati, and sent us on our way with a prayer and some good wishes.
The morning's walk was about 9 kilometers and very pleasant; gently rolling hills and a cool breeze made for perfect walking conditions. I spent much of the morning getting to know Clement, a local 26-year-old peer educator who is active in regional politics. He told me of the need to find activities to engage the Swazi youth, as poverty and lack of food have led to frustrated and disengaged teenagers. Clement informed me that young people are "spending too much time together," resulting in teenage pregnancies and the spread of HIV. He works with local groups to find other activities with which to engage these youth, including dance troupes, drama programs, and the hope of creating a farming cooperative.
Mid-morning, we stopped to hear from more local ministry and Foundation representatives. They described the work the Foundation is doing on the ground, along with some of the challenges they face, including health care staff shortages. In the years I have followed the progression of the AIDS pandemic, every discussion of a simple plan to fight the disease in Africa gets caught on the difficulty of finding sufficient staff for implementation. In Swaziland, they are working toward a solution by training local nurses to instruct others in the protocols for their prevention of mother-to-child transmission (PMTCT) of HIV programs.
We eventually arrived at the Luyengo Clinic, one of 45 Swazi clinics that the Foundation supports. We were met by a delegation of teenagers who high-fived us as we entered the clinic gates. There, the clinic matron presented us with a poster detailing the progress the staff has made in the last year. As a scientist, it was exciting to hear a research presentation here in Swaziland. The results they showed us were impressive - of the 166 at-risk infants (infants born to HIV-positive women) seen at the clinic this year, 159 were born free from the disease. Clearly, the PMTCT programs are working.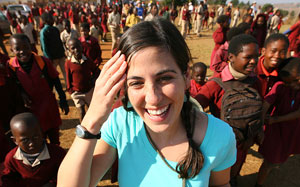 Day 3: July 2, 2008
I have been pleasantly surprised by the diversity of age, experience and background of the walkers. They are teachers, bankers, managers and philanthropists. Everyone seems to have a different reason for being here.
This morning, I spoke to Pam Barnes, the President and CEO of the Foundation. Pam told me about her experience as a Returned Peace Corps Volunteer in Paraguay and described the difficulties and satisfaction of implementing change there. We discussed how valuable we find it to hear a primary account of the challenges faced by the communities in Swaziland, in contrast with the often scientifically neutralized descriptions one receives from afar.
In the afternoon, we visited a local primary school to meet with the students. Dressed alike, they waved, giggled and made us feel welcome. A group of young girls then entered in traditional dress and performed a dance. What made the dance so powerful were the lyrics of the songs they sung; "...Why am I so skinny? I need to get tested for HIV."
I am aware of the statistics: the number of Swazis who have the disease, the number who are expected to contract it. But it is still heartbreaking to listen to little girls sing of this fate, so cognizant of the risk they face. Even writing about it now, this awareness of the disease is frightening and powerful. It is moments like those that shift my day from a pleasant walk in a beautiful country to an experience that will impact my understanding of HIV/AIDS immeasurably.
Stay tuned for more about Talia's journey!
Photos by Jon Hrusa