[Read Part 1]

Talia Rosenberg received exciting news this spring when she found out she would be attending AIDS Walk Africa 2008 in Swaziland as the Elizabeth Glaser Pediatric AIDS Foundation's first-ever AIDS Walk Africa Youth Scholarship recipient. This was the Foundation's first AIDS Walk in Swaziland - the country with the highest prevalence of HIV in the world. Nearly 40 percent of pregnant women in Swaziland are living with HIV.

Talia, who will begin medical school this fall, competed for the scholarship in an essay competition with dozens of young adults from around the world. She documents her experiences on the last two days of AIDS Walk Africa below. Read more about
AIDS Walk Africa 2008.
Day 4: July 3, 2008
This morning, we passed through a homestead headed by a widow. Before we entered, our guide gave us a brief description of the customs of a Swazi household. A husband can have several wives, and he is free to bring his girlfriends to his home. Women are not allowed to eat the liver, tongue or feet of the cows they slaughter, for fear that they will become stronger, more outspoken, and faster than their men. These are all elements of the Swazi culture and heritage, elements I will not argue with.
However, I do take issue with the seemingly limited involvement of the men in fighting the progression of HIV in Swaziland. There are some exceptions - young men like Clement (who I met on Day 1), or elders who support our presence in their country. But I cannot escape the sensation that the role of the men is frequently limited.
This afternoon, I met three women, Sibongile, Thoko and Khetsiwe, who volunteer as members of a local committee sponsored by the Ministry of Health. They educate the members of their villages about HIV, encourage the community to get tested for HIV, and tend to terminally ill patients. Sibongile has eight children to raise, Thoko has been a widow for 11 years and has five children, and Khetsiwe has to feed and care for her own seven children, in addition to those of her husband's other wives. Conquering the challenges of their daily lives is accomplishment enough, and yet these women also find the strength to stand up and fight against HIV.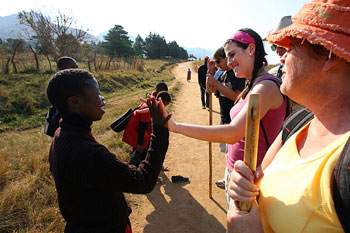 When we went to the clinic this afternoon, the nurse informed us that only one out of every 100 individuals they screen for HIV is male. Khetsiwe told me that the "men will not go for the test."
But despite the many challenges in engaging men in HIV prevention efforts, there is hope. This afternoon included a dance performance by a group of boys who urged the audience to "...Be better parents. Don't get AIDS and make your children orphans." These young men and the others I have met on our walk are the future and the promise of an AIDS-free Swaziland. As we so frequently hear -- let us pray.
Day 5: July 4, 2008
This morning, the last day of AIDS Walk Africa, we headed to a local clinic to help build a covered shelter for visiting patients and a playground for the children who accompany them. As I reflected upon my first trip to Africa, I thought about something Jennifer Fox, a foundation board member and walker, mentioned last night. Jennifer shared that before her first trip to Africa, she mentally prepared herself for scenes similar to those we see on television: images of sad, hungry children and desolate families. But upon arrival, she was surprised by the joy and hope she witnessed. My experience has been similar, as the children I have met here are friendly, curious and motivated. Their parents are resourceful and determined to change the face of disease in their country.
At the end of the day, as we were saying goodbye to the clinic staff and local ministry officers, I glanced over at the playground we had built that day. We had hammered, sawed and painted, to create a space that would engage and entertain. The space was filled with children, swinging on the tire-swings, climbing through the jungle gym and exploring their new space.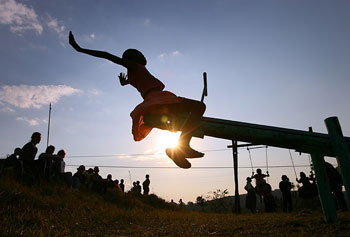 As we departed, I overheard someone comment in amazement about the amount it is possible to accomplish in a single day. It was true -- we had certainly altered the landscape of that clinic. But while the work we did today was important, this comment led me to contemplate the change accomplished by the individuals working here, not in a day or a week, but over a much longer period. I silently thanked the nurses who serve a population far too large for their resources, the teachers who educate their students on the risks of HIV, and the volunteers who care for their neighbors who are slowly dying of AIDS. They continue to fight the disease in order to ensure that the children I saw this afternoon will come of age under different circumstances; healthy and with infinite possibilities ahead of them.
Learn more about the Elizabeth Glaser Pediatric AIDS Foundation.

Photos by Jon Hrusa