Actor Ricky Schroder has found his way into film history: Just last week researchers at the University of California Berkeley named his 1979 film The Champ the saddest film of all time. In the climactic scene, an eight-year-old Ricky watches his father, played by Jon Voight, die and pleads with him to wake up. As the ultimate tear-jerker, it edged out the scene in Bambi where she cries after hunters kill her mother. "It's nice to be part of history," says Schroder, now 41, from his California home. "You would have to have a heart of stone not to feel for that little boy."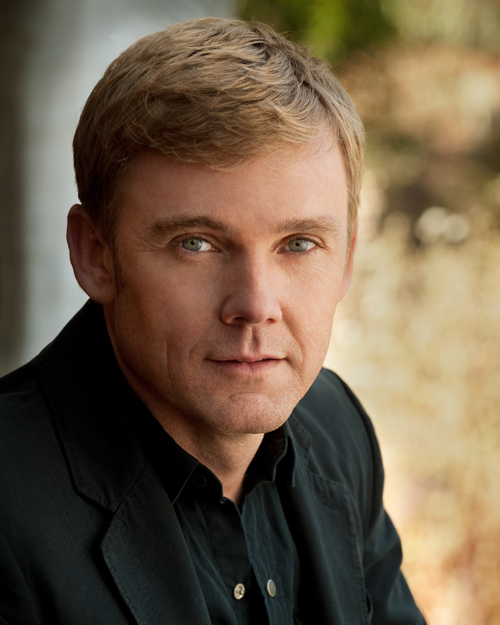 That little boy is now the father of four, married for 19 years to Andrea, and soon to star in the first made-for-CMT film, To the Mat with Laura Bell Bundy. He survived being a child actor with just a few bumps and bruises, but no scandals. "I was married at 20 and had a baby by 21," he recalls. "I had to grow up fast. Luckily there were people who believed in me and there were always jobs when I needed one."
While Schroder says it wasn't easy to be a child actor making the transition to adulthood, his body of work is impressive. He starred in the popular series Silver Spoons from 1982 to 1986. "My career was full of struggles and dreams, disappointments and peaks and valleys. But there was no Twitter, no Facebook or TMZ. Young actors could make mistakes and not become the focus of tabloids." A veritable Who's Who of Hollywood's youngest stars graced the set of Silver Spoons including Christina Applegate, Gary Coleman, Jason Bateman and Sharon Stone, but Ricky Schroder was the star. Was he ever tempted by the fast lifestyle that ended the careers of so many other child stars? "I think what some child actors go through has nothing to do with the fact that they were actors. Besides, I was always more ambitious than tempted by partying," says Schroder. "That wasn't the point of all this."
The Staten Island native became bi-coastal at the age of 10, and moved to California at 15. "I have fond memories of my childhood," he says. "I spent five wonderful years on a popular TV show, but I didn't have a normal childhood. I was tutored for grades 4-11." When Silver Spoons ended, he went to a public high school in California for his senior year. Of that time he says, "My social skills were a bit rusty and I had to learn how to be comfortable in social settings. Everyone knew me, but I knew no one. All the cliques and friendships were already established for the other seniors. It was challenging."
A look at Schroder's filmography shows that he never had trouble finding work. While still in his teens, he appeared in the hit TV mini-series Lonesome Dove alongside Danny Glover, Robert Duvall and Tommy Lee Jones. And those people too young to recall the 1980s might recognize him from his roles on the shows NYPD Blue, 24 or Scrubs. He also directed and starred in a music video for Brad Paisley and Allison Krauss' hit, Whiskey Lullaby. Explains Ricky, "That brought me to the attention of CMT and now I'm appearing in the first film made for that network." In To the Mat, Ricky plays an aging ex-wrestler who, at one point, is called "old man" by a much younger fighter. Heady stuff for someone whose cheeks were once pinched by the masses because he was so adorable. "I spent my whole childhood wishing I were older and now I'm spending my adulthood wishing I were younger," he sighs. "I never heard, 'He's just right.'" The film premieres on August 17 on CMT.
Fans of Ricky Schroder will be surprised when they see him in his wrestling costume. "It was fun to put on spandex and face paint," laughs Schroder, "But when you put on spandex, you have to totally commit to it."
A new generation of Schroders will soon be making their own mark on audiences. Ricky's youngest son, 17, and oldest daughter, 15, are both actors, something he encourages. "I was hesitant at first to allow my children to be actors but I've decided to let them make their own decisions," he says.
And while Ricky Schroder still has acting and directing aspirations, you may someday find him on a ballot. The man who spoke in honor of George W. Bush at the 2000 Republican National Convention is following the deficit battle in Congress closely. "The stage is set for fiscal responsibility moving forward," he comments. "But even though the debt is too large, I'm more worried about the trade deficit. I'm concerned about the long term. Why aren't we in a surplus and getting wealth from other countries?" When asked directly, Ricky Schroder says, "Maybe one day I'll run for office."
In the meantime, he will continue acting and directing. He is a conservationist and a passionate fisherman. He is also working with the US Army to produce advertising and marketing vehicles because, he says, "the disconnect between civilians and the military has never been greater."
At 41, Ricky Schroder still closely resembles the adorable blond little boy who made so many of us cry in The Champ. If you saw him at the grocery store, you would likely recognize him. But he's been acting since Jimmy Carter was president and shows no signs of stopping. Musing on his career so far, Schroder describes it as "stretches of mundane with flashes of brilliance."