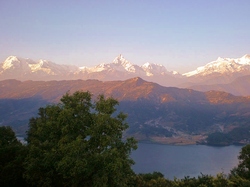 Nepal is a burgeoning republic nestled in the heart of the Himalaya whose name evokes images of soaring snow-capped peaks, fast flowing rivers, and of course, the iconic Mt. Everest. Nepal has so much to offer, and the mountains are just the tip of the iceberg, so to speak. The mountain sides are a patchwork of terraced farmland, forests, and traditional villages, populated with a variety of ethnic groups, including Newars (mostly in the Kathmandu Valley), Gurung, Magar, Tamang, Chhetri and Brahmin.

Nepal is crisscrossed with a network of ancient walking trails, paths used for centuries to connect local villages to each other and to commercial trade routes. Traditionally villagers would walk those trails carrying their weight in goods on their back, or using beasts of burden for even larger loads - mules in the lower terrain, and yaks at higher elevation.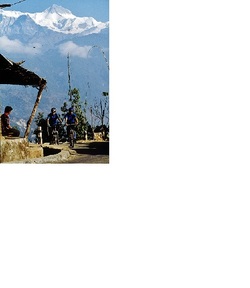 Today, although more villages are connected by road, the vast majority are still connected only by these ancient dirt trails.

This is what has made Nepal such a magnet for trekkers - the ability to explore the diversity of cultures nestled in small, untouched, traditional villages high in the Himalayas and far off the tourist track while enjoying the splendor of the mountain scenery. I spent my honeymoon trekking in Nepal and the interactions with locals along the way were incredible. We met Tibetan traders coming across the mountains with their wares, children on their way to school and yak trains with goods loaded up for sale in remote villages. The mountains are so close and so immense that it's hard to fully absorb their enormity and there is a feeling of having stepped back in time.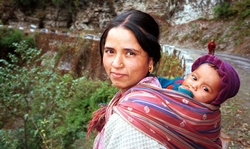 It is this type of experience discovering the natural wonders of one of the most awe-inspiring nations on earth, while also interacting with the hospitable Nepali people that continues to attract travelers to Nepal today.

Trekking in Nepal is fantastic, but the ability to mountain bike can offer an even richer experience -- which is why in designing Access Trips' portfolio of bike tours for 2013, I found it essential to offer mountain biking in Nepal. Using the same trails as the villagers, mountain biking allows you to get further off the beaten path in a shorter amount of time. Because you can move between villages faster, you can cover more ground, visit more villages and enjoy more downtime in the villages to connect with the locals - who are as interested in you as you are in them.

You can watch pious Hindu pilgrims in colorful saris as they gather at local temples for festivals, visit Buddhist monasteries as the monks are doing their morning chant, and stop at a village tea house to share lunch and a cup of tea with local farmers. And nothing beats the exhilaration of flying downhill on trails that descend up to 2000 vertical feet!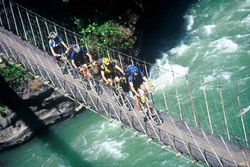 Lest you think that mountain biking in Nepal is only for hard-core cyclists, new low-altitude trails have been opened up for advanced beginner and intermediate mountain bikers. You do need to be in good shape because nothing is flat in Nepal, but with a support van and expert coaches and guides, Nepal can be the perfect place to develop your mountain biking skills.