While you can look at the popular ABC series, The Bachelor, as pop culture entertainment, it can also, surprisingly, provide some real life lessons. In this case, a dramatically unexpected finale that aired Monday night, gave women a liberating look at someone who had finally had enough, and had the courage to say so on national television, transforming her from a branded harlot to a burnished heroine in a matter of minutes
Clare walks away a heroine on The Bachelor finale (photo by ABC/Rick Rowell)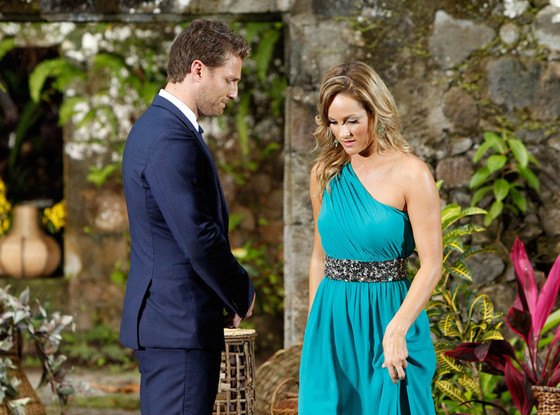 Clare had been positioned all season as the vixen and the villain, the over-sexed hussie who wouldn't play by the rules. She earned the disgust of the other girls and the disdain of viewers. But Claire persisted. While the "smart girls" (the assistant District Attorney and the international opera singer) resisted the Latin Lover's charms, deducing (amidst the allure and amore of the Fantasy Suite) that Juan Pablo had the abs of Adonis, but the intellect of an ant, while the more mundane finalists, the beautician, Clare, and the nurse, Nikki, hung in there.
While Nikki played the bland "good" girl, Clare snuck into Juan Pablo's suite for an added dose of "intimacy" because she was hoping "with an open heart" (among other things) that he was indeed, the man for her. Most women watching the show were ready to write her off, especially after their crucial final date, where he was anything but chivalrous.
But, in the final rose ceremony as we were poised to dismiss her, and apparently, so was Juan Pablo (he made lewd off camera comments), Clare too realized there was no "there there." She found her voice, and expressed what every objectified woman in America wished they had said at precisely that moment. With millions watching, and with no "woulda, coulda, shoulda," she just went for it: "After what you put me through, I would never want a man like you to be the father of my children." Clare set him in his place and in so doing established hers.
At 1:15 is Clare's tell off to Bachelor, Juan Pablo Galavis:

During a post finale live interview, when asked to explain why she allowed herself to play the doormat for so long ("Why did you hang in there?" asked host, Chris Harrison). Without any irony, she replied that she was committed to letting her full guard down for the first time and hoping that he was the man she wanted. She followed up by saying, "That day was pivotal for me - I had never been able to stand up for myself - so many women can relate to that - you give it chance after chance. It was so liberating to stand there and say, 'This is exactly how I feel, and it's not okay' - that was my closure - that was all I needed!"
The working girl wowed us with her courage and candor, she stood firm and now stands for women who stand up for themselves. Better late than never!
P.S. The story does not have a completely happy ending. Sadly, Nikki, accepted a wink and a rose (no ring and no respect). Stay tuned to see if somewhere down the road she closes the book on this chapter as well.