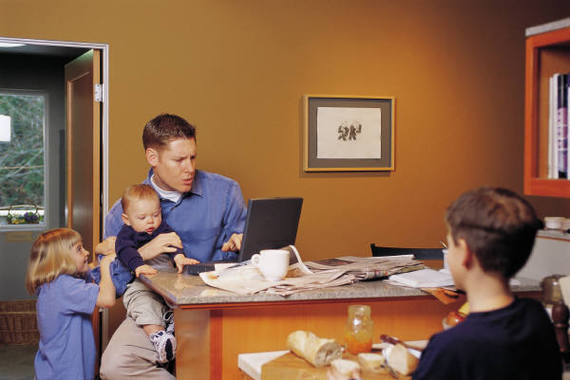 We've all come across technology stories with the headline usually reading something like Ex-Google engineers want to be [insert name of any hot startup] for [insert emerging market]. The stories are unusually similar and the focus is on young people who got bitten by the entrepreneurial bug. Their personal challenges might revolve around not having enough energy drinks or ramen noodles as they pull all-nighters, just like they did in college just a few years or even months back. Why don't we hear much about seasoned professionals who are putting their young family's financial freedom at risk for the uncertainty of starting a business?
Thirteen months ago, I decided to let go of a rewarding career as a management consultant for Fortune 500 companies to launch a tech startup. With a mortgage slowly eating up my savings, time wasn't on my side. I put my consultant hat back on and adopted a lean approach to minimize the impact on my family. Follow these 4 tips to remain sane while you navigate through the personal ups and downs of launching an online business.
Tip #1 - Use your time efficiently
The hardest challenge kids create when starting a new company is that you no longer have complete control of your time. It's no longer possible to work whenever you want, wherever you want and for as long as you want. Kids have schedules too - they wake up at certain times, they need to be fed, played with, picked up, dropped off, and all kinds of other needs that have to be attended to. While you can control some of these, you can't control them all.
With the addition of those elements to your daily work routine, you need to become extremely efficient at managing your time and ruthless about wasting time while at work. You may have to answer emails as the kids are being fed or even brainstorm a project while you are bathing them. And if you know you can only be working from 9-4 during the day, you just can't spend an hour on Facebook or going to a long lunch with an old friend.
Advice: Make an efficient use of your time and create a schedule you can easily stick to. Remain ruthless about maximizing your work time, and add some extra work time either early in the morning or late at night when the kids are asleep.
Tip #2 - Let go of the things that can hold you back
A proven way to be more efficient at work is to let go of the things that can hold you back. We all enjoy relaxing doing different things, with some of them taking up a significant amount of time. Examples of this could be watching movies, reading books, being on Facebook, and spending time with friends.
Fortunately, some of these things can easily be cut out of your daily routine or used in a sensible fashion. The reality is that spending time with your kids and spouse should take priority over any of those of activities. I wouldn't recommend that you completely cut all enjoyable activities out of your life because that could end up making you hate your work and feeling depressed. Besides, there can be value in recharging and letting your mind brainstorm while idle.
Advice: Start by keeping track of how much time you spend doing these kinds of activities. Find the ones that you can go without for a prolonged period of time and that doesn't affect your mood. Once you've identified those "non-value added" items, try cutting them out of your daily routine and monitor results. Keep iterating with this list activities until you've reached your ultimate level of productivity and started noticing results.
Tip #3- Set Manageable Expectations
The situation that you really want to avoid is for either your family or your team to have unrealistic expectations of you.
It can be detrimental to a relationship when starting company without the spouse's blessing and support of the time commitment, potentially low pay, high stress, and frequent travel that such a venture would entail. Both parties need to understand the implications and the sacrifices that each will make in order to bring to fruition this new project.
Some of your employees could be single and be possible for them to work 18 hours straight. Unfortunately, they need to realize that this is not going to be possible for you. You really need to make sure they understand how much time you'll be able to give them on a daily or weekly basis.
Advice: Talk candidly with your family and your team about your expected schedule and commitments so that there are no surprises. It is key for everyone to go into this adventure with eyes wide open. Make sure your schedule is communicated beforehand and your employees encouraged to take a leading role in their work. You will be bothered less and will help you get more things done.
Tip #4 - Build a Support Network
You can't manage everything yourself and your spouse can't either. It's perfectly fine to seek help by building a personal support network that can be called upon when the need arises. To tap into this powerful system, you might have to move close to family for them to help with the kids, and give you and your spouse a break. Really close friends with kids the same age as yours could also serve as an option.
From a professional standpoint, there also can be support network options such as hiring cheaper contracted help for certain tasks that take up a lot of time like administrative work, accounting, and other things that aren't necessarily core to your company's success.
Advice: Hopefully you have some available friends and family that might be free. If not, it may cost money but finding help either at home or the office can help with a lot of the time strain that can occur with kids.