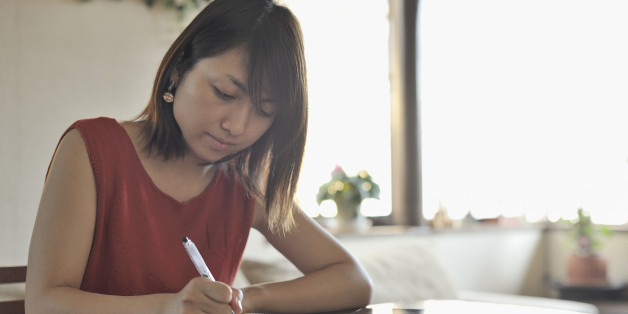 Today, as I embark on a new journey, I ask success to become one with me, love to run through my soul and contentment to fulfill my heart.
Success in today's world encompasses three things: money, power and extravagant lifestyles. We live in a world where people know all about the Kim Kardashians and Justin Biebers but have no clue about Nelson Mandela's journey to freedom or who Mother Teresa was and what she did for the underprivileged children of India.
As a child, I learned that the definition of success isn't about the journey but it was about the achievement -- did you win a medal, an award, an A+? If not, you were a failure. Being successful has always been a foreign thought for me. I was the "invisible square" growing up. Let me explain why: I was not a pretty girl, not into science or math, never won a spelling bee or any sports-related competition and I loved to write and tell stories (got me in trouble quite a few times!!!). I felt invisible as I was the middle child, quiet and shy. Both my siblings were smart, successful and outgoing. Success did come along the way,especially when I started writing school plays in high school, but I always brushed it off as being "lucky" and hopefully people would never find out the "truth" about me. So growing up, my idea of success was a little misconstrued. I became mediocre in everything that I did, truly believing that I could never succeed.
I ended up becoming a teacher and finished a Masters degree at 43, taught blind women how to apply makeup, did makeovers for women to improve their self esteem, taught my students to be kind and compassionate citizens of the world, had a weekly column in Khaleej Times (a local newspaper in Dubai), organized a multitude of fundraisers for Haiti, Japan, Pakistan and Syria, was called Ms. Compassion by my students, wrote press releases and raised three wonderful kids; yet deep down I felt unsuccessful.
After I left a 20-year marriage (which again put me in the category of not being successful in my relationships) I needed to rethink my thinking. How could I change my mind to see what the world saw in me? How could I learn to redefine success? Once I started to ask the questions, things started to happen to help me find the answers. As God would have it, one fine Sunday, as I sat with my coffee cup to watch Oprah's Super Soul Sunday, I saw a beautiful radiant woman (Arianna Huffington) on screen talking to Oprah. I then positioned myself in front of the TV and started watching. I so loved her story, it was like that was me -- OK maybe not the same way Arianna Huffington's life was, but I was also a woman, worked two jobs, single mom, writer, drained, emotionally exhausted and kind of broken up from inside. I was at the verge of a breakdown. So I watched the show and I cried through it. I don't know why, but I felt like a super power or God, as some of us call him, was talking to me. He wanted me to look deeper within.
I decided that day that I needed to change. I am starting a new journey today, to redefine what success and joy means to me. What really does matter to me? Why was I placed on Earth? How can I change the lenses through which I looked at myself? Could I ever see myself as "successful"?

I will be writing in my journal every week till I get to the point of thriving instead of just surviving. Find out next week what strategies I decided to use. Please join me on this journey and together let's redefine success for all of the "Invisible Squares" around the world.