Have you ever wondered how you got to a certain point in your life and what event, idea, or person may have led you down the path you now follow? My introduction into the world of autism was entirely unexpected and unplanned. In 1995, I received a phone call from a parent who was interested in enrolling her seven-year-old daughter, Amanda, in swim lessons. Janis, Amanda's mother, explained that she was interested in only private instruction; the typical swim class, she told me, would not suit Amanda. She explained that the likelihood of Amanda actually learning proper swimming technique was not a concern. She simply wanted to pay me to play with Amanda in the pool because Amanda loved the water -- it seemed to make her happy and calm. Janis asked me if I knew anything about autism and if I had any experience teaching children with autism. I assured her that I had taught children with many different special needs, and I was willing to explore the world of autism.
At the time, I had been teaching swimming for 20 years. I started teaching swimming at the age of 12, as a volunteer at Children's Hospital in San Diego. I also volunteered for the Easter Seals Swim Program, where I taught children with various disabilities such as Down syndrome, blindness, deafness, cerebral palsy and Spina Bifida. Because of these experiences, I felt confident working with any child, even one with autism.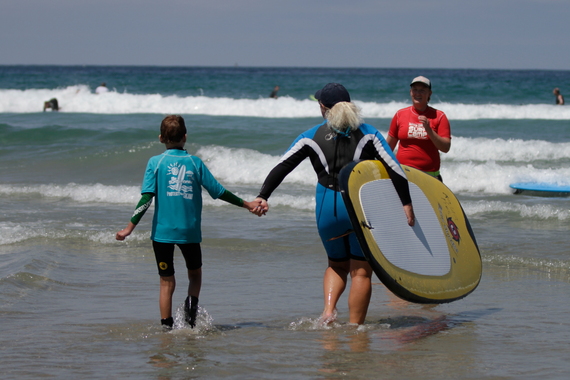 Without hesitation, I told Janis that I would teach her child, even though I was completely unaware of what autism was. Janis had a sense of relief in her voice as she told me that she had tried several other swim programs without success; no one was willing to work with Amanda and take on her unique challenges in the pool. I love nothing more than a challenge. So, in preparation for my first lesson with Amanda, which was scheduled for the very next day, I raced over to the library and did a little research on autism. As it turned out, my three hours of research was not enough.
At times, Amanda became aggressive and non-compliant with my requests or direction. I constantly tried to imagine what she was thinking and figure out how her logic and thought processes flowed. I was relentless in my attempts to connect with Amanda. When one tactic didn't work, I tried something else, and then something else, until I found what worked. I never gave up on Amanda.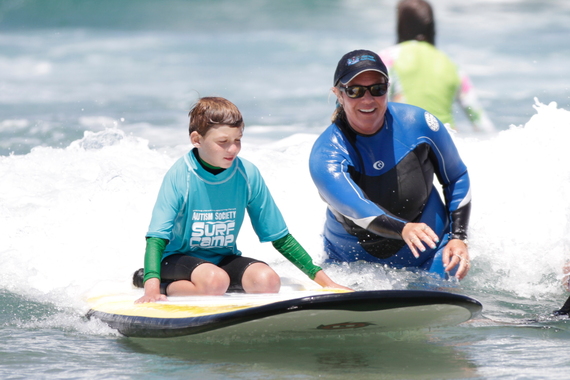 After a few months, I invited Janis to watch Amanda, who was by then able to swim a length of the pool with a coordinated freestyle stroke. I was proud of the fact that I was able to do what so many other swim instructors refused to even try. I didn't realize what an incredible impact that moment would have on Amanda, Janis, or me, until I saw the tears streaming down Janis's face as she told me, "You don't understand how important this is. Amanda goes to school, and no one has been able to teach her to read, write, or even talk. Yet, you were able to teach her how to swim."
The appreciation and sheer gratitude Janis showed me has sent me down this path, which has, in essence, altered my career and given me passion I would not have otherwise found. I empathize now with the struggles of families with children with autism and knowing that drowning is the leading cause of death for children with autism, due to flight risk, no inherent sense of danger and fascination with water, how critical it is for those with autism to learn to swim.
This blog post is part of a series produced by The Huffington Post and The NASCAR Foundation, in conjunction with the latter's Betty Jane France Humanitarian Award. HuffPost will feature a blog by each one of the four finalists on consecutive days, and each will appear on HuffPost Live that day. To see all the posts in the series, visit here. For more information about the Betty Jane France Humanitarian Award -- and to vote for the winner -- visit here.