Planning a fall wedding but not sure about the visuals? Fall can be the most vibrant season for colors, so why not take a tip from the outdoors and copy those natural colors! Think deep and rich hues for your autumn wedding, like wheat, burgundy, and chocolate brown. After spring and summer weddings filled with bright shades, autumn brings back traditional colors and softer styles. Fall colors can be used everywhere on your big day, so follow these ideas to make your wedding fit in perfectly with the beauty of the season.

Reflect Fall in Your Florals:
Create your bouquet with mixes of dahlias, roses, and the like -- flowers that come in many autumnal red, yellow and orange colors. Don't be afraid to combine your flower choices either! Mixing different floral selections with varied colors into one bouquet will give your arrangement a vibrant, textured look.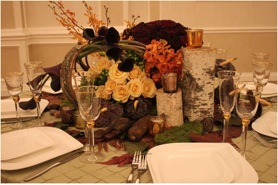 Match Décor with the Outdoors:
Heirloom pumpkins and squashes come in colors from traditional Halloween oranges to muted tan and grey/green. Placing these colorful items along with others seen in nature (think acorns, grapevine) at your wedding will create a cozy and rustic feel and can be the perfect additions around your reception area. Another way to incorporate the beauty of fall nature at your tables is to use a glass top with leaves or dark flower petals underneath, giving a new twist to traditional table setups. Need something else to spice things up? Metallic shades are coming back in a big way this season, so don't be afraid to add in some bronze vases or hints of gold on your plates and glassware.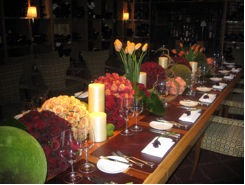 Gowns with Fall Flare:
To complement natural autumn colors, choose dark tones for your bridesmaid gowns. Dark greens and other jewel tones will keep your bridal party up with the fashion trends of the season and will also fit well with your color scheme in the flowers and décor around them. Don't let the trends take over though -- even though a trendy tangerine orange color may be in style now it may not compliment every skin tone; be sure to choose a color that flatters all!

Foliage for Fall Seating Cards:
Here is another place to get creative with nature and the fall season. Using cream and beige colored papers, you can easily add in more of those deep brown and dark green colors in fonts or graphics that will tie in nicely with the rest of your autumn colors. You can even continue the earthy trend by adding small pinecones or leaves tied onto these!