It was summer time in Malibu and we were planning on having a picnic lunch at the beach.
My son's Davis and Skyler were toddlers at the time and I was trying to come up with a lunch to pack for them that would be yummy and easy to eat at the beach knowing there is sand everywhere!
For my husband and I, I made one of my favorite sandwiches, a good piece of artisanal cheese on a fresh baguette with tomato, basil and olive oil or I call it a "Malibu Sandwich". This sandwich is super easy to make and travels really well. It's also just as tasty a few hours after you've made it which makes it a great choice for a picnic sandwich. I'm using goat cheese but this sandwich would also be delicious with a brie or any good piece of cheese that you fancy.
When packing a lunch be sure to pack ice packs to keep your food cool. Food left in warm temperatures can spoil very quickly.
I hope you enjoy a day at the beach, park or backyard this summer with a delicious home made picnic lunch. Please visit me at www.TamraDavisCookingShow.com for more recipes and shows.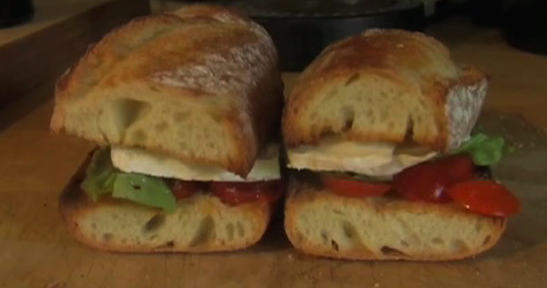 Malibu Sandwich
(Makes 2)
1 baguette
4 ounces of goat cheese
1 tomato sliced
1 handful of basil
Olive oil
Toast the baguette lightly. Drizzle olive oil on both sides, place or smear soft cheese on one side, add tomato, a pinch of salt and pepper, and basil. Press the two pieces of bread together. Voila.