I started making music videos in my twenties and made my first feature, Guncrazy, at 29. I then spent the greater part of my thirties directing features. It felt amazing to be one of a handful working female directors in Hollywood. By my 8th feature, I knew I was fast approaching the deadline for my body's ability to make a baby. I halted my career and focused on having a family with my husband, Mike D. of the Beastie Boys. I found out I was pregnant with our second baby when our first baby was only 12 months old. I was excited but also panicked. I really wanted to get back to my career and yet was sucked into the mama vortex; I wanted another baby. I realized, I was not going to be able to get back to work for a while...
I discovered television is a great way to deal with the chaos of new motherhood. I would put the babies to bed and get lost in a trashy reality show. Or watch the Food Network as a type of pornography for a mom who thinks about eating all the time.
The more I thought about food, the more I started to understand the depth of my responsibility to feed my two growing boys. I also found that my health was super important.
A mom can't afford to be sick.
It was a challenge to find a cooking show which featured food that I wanted to make for my family: healthy, organic, mostly vegetarian and most of all, easy. So what started out as an experiment in what happens when a filmmaker who is a mom winds up in a kitchen, ended with me making my own little reality cooking shows. No crew, just a camera, my life and a good recipe. A recipe has the structure and pacing of a perfect short film. It has a beginning (you shop or plan), a middle (you cook) and an end (you eat!).
I started putting these 3-5 minute shorts up on my website, TamraDavisCookingShow.com, and found a whole new audience of moms that were like me; looking for a healthy, easy and kid friendly alternative.
I really hope to inspire moms to make delicious, healthy meals for their families. I always wanted to put a camera in a woman's hand, now with my passion for children's health issues I want to put a pan in her hand too. Yes, I do believe many of our global concerns can be helped by the choice a person makes in what they feed their family.
Making these shows has allowed me to express myself as a filmmaker and reveal an insiders look into the life of a mom that finds fun in the challenges of feeding her loved ones.
Here is a show from my website TamraDavisCookingShow.com called Granola:
Granola
(Makes 6 cups)
I wanted to make granola because I kept hearing how granola was so fattening and I was eating this amazing granola from Kauai called Anahola Granola. It's fattening because most recipes have you adding a ton of butter or oil. I cut down on this by using apple juice. It made it just as crunchy and is so delicious and nutritious!
3 cups organic oats
1 cup shredded coconut (sweetened or not)
1 cup chopped nuts (almonds, walnuts, pecans)
½ cup seeds (sesame, sunflower, pumpkin seeds)
½ teaspoon of salt
1/3 a cup of sunflower oil
½ a cup of honey or maple syrup
¼ cup of apple or orange juice
1 teaspoon of vanilla
sprinkle of cinnamon
1 cup chopped dried fruit (raisins, dried apricots, apples, etc...)
Heat oven to 350. Mix everything together except the raisins.
Lay the granola flat and even in a shallow pan (best is a heavy duty baking sheet with edges). Make sure the granola is not more than one inch thick or you may need to use two pans.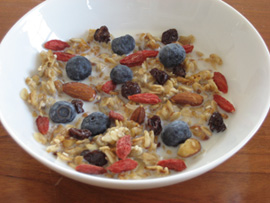 Bake for about 20 minutes. Check and stir it up after about 10 minutes. Don't let it burn. Stir in dried fruit once it's cooled a bit. Serve with your favorite milk or yogurt. Store in an airtight jar.
*Bonus - Granola Bars - put 1 cup of granola, 1 tablespoon of butter, 1 tablespoon of flax oil, 2 tablespoons of honey in a food processor. After it's blended fine, add a few organic chocolate chips and form it into a shape on a Silpat that's sitting on a cookie sheet. Bake for 10-15 minutes at 375.