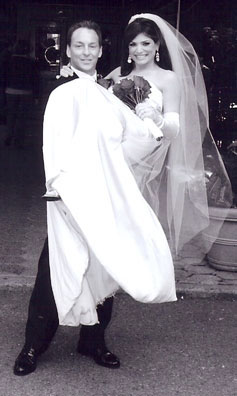 As many of you know, Matt and I said "I do" exactly three weeks
ago. With ninety members of our closest family and friends looking on, it
was a gorgeous event at Tavern On The Green. We had an amazing time on
our honeymoon and are settling in quite nicely to married life (Though, I
really don't feel any different? Am I supposed to?)
But now that I am back, I am faced with a question that doesn't
seem to go away. Once people says congratulations to me and ask about the
honeymoon, the next question goes something like this, "Are you
going to keep your name?" When I say yes, the reactions I am getting are mixed.
When my parents were married, no one asked questions like this,
perhaps because it wasn't really an issue. The day my mother said "I
do," and her mother before her, it was automatically assumed that she was
going to change her last name. But today, aside from picking out the color
of bridesmaid dresses, the flavor of cake and the script on the
invitations, brides have another decision to make: To change or not
to change their name...that is the question.
I started to do a little research on the subject and came across a
number of different reasons women do and don't change their names,
ranging from personal reasons to business considerations. What do
you do if you are career woman who is known by her maiden name? Is it
insulting to the man if you don't take his name? Matt says he is
not insulted at all and completely understands that I have built my
career around a part of my identity that was around long before he was. But I
wonder if deep down that is really how he feels. One article I came across said all women should change their names when they get married and that it is a "slap to
marriage" when they don't! It went on to say that any woman who
rejects her husband's name is saying "I marry the person I love, but I
can end it anytime I feel like it." But, the woman who takes her
husband's name is saying, "I love the person I marry, and I have a commitment."
Is this really the case? Are all of us who are not taking our
husbands last names actually "slapping them in the face" at the altar? It
didn't seem like I had slapped him when after we said I do; in fact, he kissed
me. And, I certainly don't feel like I can end our marriage anytime I feel
like it just because I don't use his last name. And, what if I take his
last name in my personal life, but not in my professional life? Does this
mean I will only feel like "I can end it" when I am at the office
and at home "I have a commitment?"
So, what is the answer? Do I change it altogether despite the years I
have spend using my maiden name? Do I use my maiden name in my
professional life and hyphenate in my personal life? Or, do I do what
Madonna and Cher did to avoid the anxiety altogether?




I Now Introduce To You: Mr. Matt FADAL (?)
By: Matt Titus
As I threw Tamsen over my shoulder and took her into our brand new
cave on our wedding night, I took great pleasure in knowing that my bride was
Mrs. Matt Titus. Yeah, right! It was more like Tamsen telling me that
after 12 years of branding herself to her viewers as Tamsen Fadal, the
best she could do was Tamsen Fadal-Titus (only on our checks!). She also
informed me that this was a massive compromise on her part because
she was considering asking me to take her last name. Hmm, Matt Fadal . . .
I don't particularly like that. But, I would like to take this opportunity to
stroll down gender reversal lane and try to walk a block in her Jimmy
Choos in order to get a sense what all the fuss about changing names
is about.
Between the ring, the merging of the bank accounts and the new
pronouns "us, we and they," losing the identity of my name of 40 years
might be enough to throw me over the ledge. Not to mention, the daunting task of
changing my identity on paper and plastic, as well as training myself
to say my new full name in a fluid manner without sounding like Forrest
Gump. What an unappealing task.
Oh boy, I am starting to get the picture of what these lovely new
brides must go through. Especially those women who have built their careers
around a powerful name like-- Tamsen Fadal (I am so
whipped)!
So what's up with these men giving women a hard time about changing their names? And, who cares what she's calling herself as long as she's your life partner?