It's Saturday, so I took a break from visiting design studios to marvel at the natural beauty of the Cape's coastline and dive into the ocean.
The waves at Muizenberg were fun -- hip high, speedy, and constant. What better place to christen our new venture with the blessing of good stoke than in the waters commonly deemed to be the birthplace of South African surfing?!
I took a few photos to commemorate a memorable session in a beautiful spot, but these aren't the ones I'll post. The blogs from this trip are intended to introduce the idea behind OBene, so that when we open for business, you'll know what's coming.
So in case you've missed my earlier missives, OBene is creating a network to promote compelling products from around that world that we think you'll delight in buying, but the bene bonus is that each sale kicks at least 10 percent of the price to the charity of your choosing.
Thanks to the technology provided by our friends at Kudyou, it'll be incredibly easy to select or discover the non-profit that you'd like to share in the benefit of your purchase -- and to tell all your friends about both the unique item and the unique value proposition of consumer choice in driving more dollars to more causes.
Therefore, instead of my snaps, I'd like to share some images taken by brilliant photographer Henry Dombey, who is one of the artists to be showcased on OBene. We'll have a selection of signed, framed prints from his recent trip to Africa for sale during our launch.
Dombey's black and white images are like visual poetry -- they distill time, place, and experience into portraits that are both personal and universal. As a preview to what's in store at OBene, here are two Dombey's that honor water. I've included his descriptions of the shots for added color.
The ocean hypnotizes me. It brings on wild mallard thoughts. I know I'm not alone.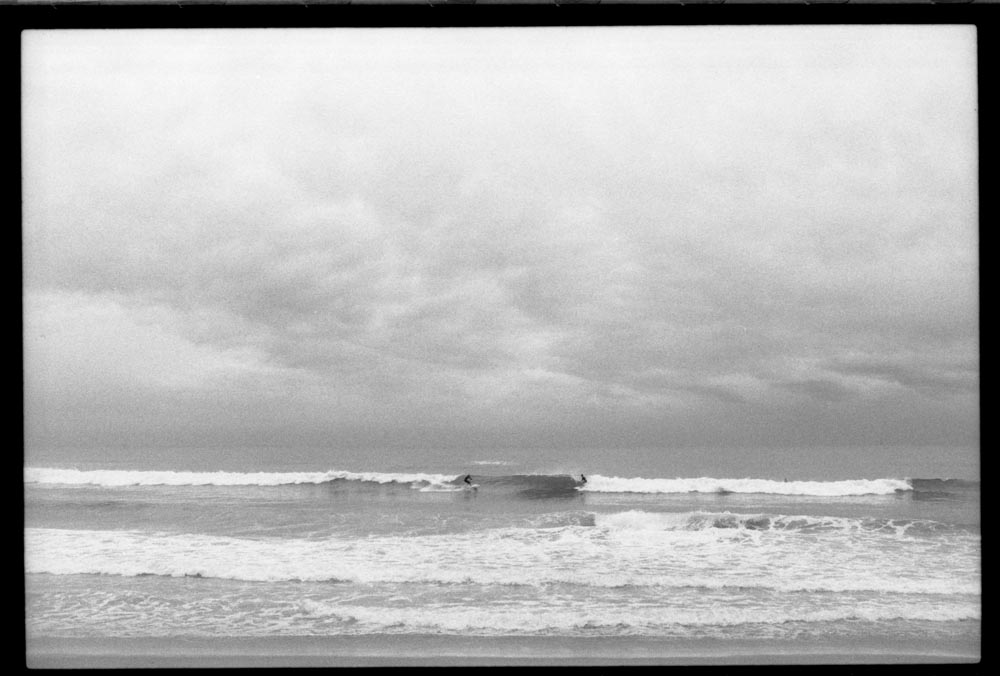 I had heard about Durban, surfing, and sharks. We were thrown into an incredible bunch of people who acted as ambassadors not only to Durban but to South Africa as a whole. They were not only great surfers, but brilliant athletes, adventurers, and hedonists.

The problem with South Africans is they tell the best damn stories. It was hard to get a word in edgewise that compared to tales of sharks, surfing, and apartheid. If you grow up in Durban these breaks are a legendary part of your home and history.

There are two types of ferries that you can get from Dar Es Salaam (the Tanzanian mainland) to Zanzibar -- the slow ferry and the fast ferry. It turns out that both tickets cost the same amount and it's a total crap shoot as to which ferry you end up on.

You would think that buying a ferry ticket for such a popular trip would be a simple procedure. This is not the case. When you arrive at the port it is mayhem as hundreds of hustlers, fixers, and vagabonds rush you with the attempt of guiding you towards the ticket office that they work for.

It seems like money runs down hill and the first point of access are the people on the street who attempt to cajole you in their direction. It is a continual and frustrating challenge to move and do business. While we were told that we had tickets for the fast ferry, we quickly realized after two hours on the boat, that we were not close to any land. Some two plus hours later we were docked at the industrial port in Zanzibar.

One of the first buildings you come to is the bar 'Mercury's' named after Freddie Mercury of Queen, who was apparently born there. There is a huge terrace right on the beach and below you there are all sorts of kids who are playing these gymnastic type games in the setting sun.