Just another day and a half in Cape Town, then we move on to Zambia, in search of more products for OBene to bring to an American audience. Our mission is to delight you with desirable finds and give back 10 percent of the sales price for you to spend -- invest rather -- with the charity of your choosing. And why shouldn't empowerment swing all ways? This is the democratization of beneficial buying.
So here's another example of where the rubber will hit the road at OBene. Yesterday, I visited Township Patterns, a social enterprise whose colorful designs are inspired by the country's informal settlements, and whose purpose is economic growth and opportunity for the women who sew their vibrant, fun, and free garments. Township Patterns' scarves, ballet pumps, boxer shorts, and apparel are made by independent sewing cooperatives in the townships and on the Cape Flats. All items are World Fair Trade Organization accredited. Have a look: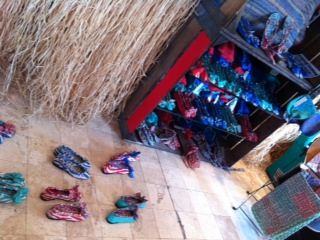 We won't have the chance to visit Namibia this trip, but it's at the top of the itinerary for our next visit to the African continent. You won't need to wait until then, however, to step into one of the finest heritage brands operating in Namibia. The Schier Shoe family business began back in the 1930s in Swakopmund, a fishing village now turned busy town. Schier's artisan makers are 12 Damara and Herero gentlemen, who craft each Vellie (from velskoen or "field" shoe) by hand from culled Kudo leather.
The Schier vellies are a graceful riff on the desert boot, died in fantastic fashion-forward shades. Each pair is unique, bearing the natural markings of each individual piece of leather, as well as the creative hand of the individual maker. What could be more appropriate for a classic adventurer's shoe that to know that each one has crossed solid ground to get to you? There's depth and purpose to these walking boots, and you'll bear that in your stride. Take the scenic route and leave your mark. OBene will be offering a special run in a rich indigo tone soon. There's only enough Indigo for 20 pairs, so watch this space...