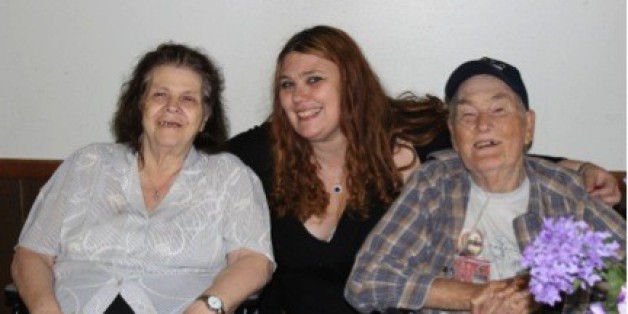 This story was produced in partnership with Facebook Stories. Submit your own Facebook story here.
---
Christmas is a hard time for my family and many others, but this year I hope to make it easier for some people in my community.
In July, I started a local help group called Paying It Forward Wishes and Heroes on Facebook. I wanted to create a safe place for people to share what they're going through, put out a call for help and find kindness and strength from within their community. In less than five months, the group has grown to 4,200 members in the Chicago and Northwest Indiana area. We connect those who are in need with others who want to help by "paying it forward" -- whether it's providing holiday meals and toys, household items, clothes, emotional support, crisis prevention or anything else.
Suicide prevention is especially important to me, and it's one of the main reasons I created this group in the first place. My brother Zach took his own life on Christmas 2007. I also lost my older brother Dan to suicide in 1993 when I was just 17 years old. So I set out to organize a small community help group where people could turn to find others to talk to, people who will help pull them out of the darkness and show them they always have someone who they can turn to. I want people to find someone who understands what they are going through because I've been there too. The group really took off and the phenomenal members who are a part of it started helping people in so many different ways.
We've helped get women out of domestic violence situations. We've collected pop and beer tabs to help a family receive a plaque at the Ronald McDonald House in memory of their son Zachary Plant who died of cancer. We've organized a 63-year wedding anniversary for a dying couple and helped fulfill their wish of meeting a professional WWE wrestler. On Thanksgiving, we helped 85 people get dinners. Now we're trying to fill 350 "Santa boxes" for children who need gifts this season and organizing Christmas meals for 150 families. Christmas wishes are a large challenge with so many children to help, but I promised myself that somehow we will fill these wishes as I cannot bear to see even one of our members' children lose faith in Santa.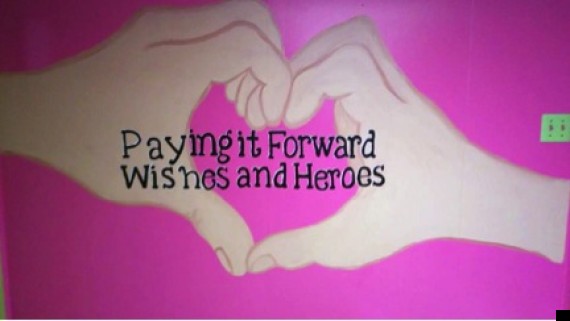 In September, I was able to take Paying It Forward Wishes and Heroes to the next level, and become an official not-for-profit corporation. In October, we opened a small office. Now I'm working on raising money to get 501(c)(3) charitable organization status. Since we are not currently grant funded, we rely on the kindness of others and connecting individuals who can help each other. It's not about donating money -- most of our volunteers don't have much money -- it's about forming connections and showing people that there are good people out there who will be there for them.
I think we're different because we are not an organization of individuals who went to college to become social workers, and the help that we provide isn't something that was taken from a book. These things come from our life experiences and from our hearts. I truly believe that everyone is struggling in some way or another, and everyone fights a daily fight that nobody else knows about. But we don't have to be alone.
That's what Paying It Forward Wishes and Heroes is all about: creating relationships, a safe place to turn to in your time of need where you do not have to worry about being criticized or judged, inspiring others to be kind, helping someone who feels helpless and showing them they have a purpose, that they are important and giving them faith and hope for better things to come in the future.

I always try to remind people, it doesn't cost a thing to be kind and to change someone's life around forever.
Tamye Haugen is founder and CEO of Paying It Forward Wishes and Heroes. She was born and raised in Chicago and the South Suburbs, and now lives with family both in Tinley Park, Ill., and Hammond, Ind. Tamye was recently nominated for an Eagle Rare Life Award for creating her Facebook-based community help group. To learn more about Paying It Forward Wishes and Heroes and all the work that they do, click here.
If you're in Illinois or Indiana and would like to get involved, request to join our Facebook Group.
We're also looking to create active chapters in other regions.
For Twin Cities region, contact Karin Strub by going here.
For Las Vegas region, contact Jaime Wehr by going here.
For Mississippi region, contact Dorothy Dueitt by going here.