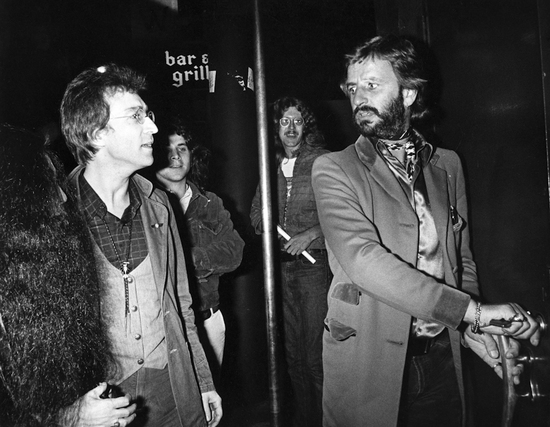 "The Key to On the Rox," © Brad Elterman
As a young photographer coming of age in the San Fernando Valley, Brad Elterman would borrow his parents' car to drive over the hill into Hollywood, where he witnessed 1970's rock history in the making. "My timing was perfect," recalls Elterman. "The apex was between 1975-1980 and there I was, a teenager, hanging out with my pals the Ramones, Sex Pistols, Debbie Harry and Joan Jett on the Sunset Strip. Luckily, I had a camera hanging around my neck."
Luckily for us, Elterman captured many rare, candid moments, like a picture of John Lennon and Yoko Ono chatting with Ringo Starr outside the Rainbow Bar and Grill not long before Lennon's death in 1980. Then there's the photo of David Bowie outside the Cherokee Recording Studio, where a teenage Elterman camped out at 6 a.m. one morning in 1975, just to get a picture of the rock icon at work. "It's that raw and un-posed photo of Bowie that is coveted by collectors and curators today," he observes, "not a photo of him performing onstage."
And he's right -- Elterman's unusual perspective comes from the fact that he was a young fan with a passion, not a professional photographer with an all-access pass. Nowadays, though, his photographs are finally getting the valuable recognition they deserve. See Brad Elterman's exhibition Factory 77 at Kana Manglapus in Venice (on display through September 10, 2012).
If you're not in the Los Angeles area, don't worry -- we have a few snapshots for you right here, with more over on Pop Curious.