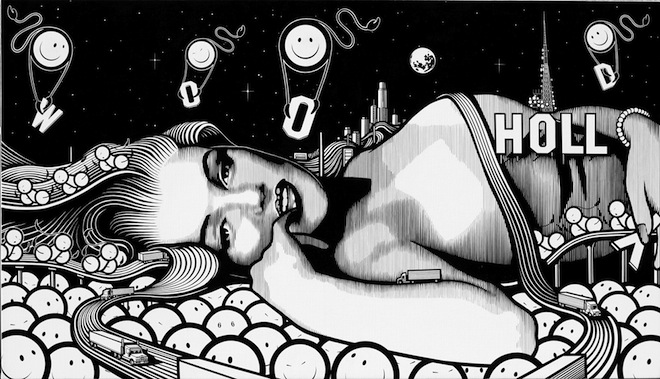 "Marilyn" by The London Police
The London Police are a pair of Amsterdam-based street artists from the UK -- Bob Gibson and a guy named Chaz. Best known for making large-scale murals with bubble-headed figures they call LADS, these two also happen to love dogs. For Dogs Sake is TLP's newest multimedia art-circus, featuring one-of-a-kind doggie jackets custom-made by international street artists such as Jeremy Fish; Logan Hicks; Galo from Italy; Ramond Lemstra from the Netherlands; Minivila from Croatia; and of course, The London Police, too. And that's just naming a few of the artists whose works are up for sale at Culver City's Corey Helford Gallery, with proceeds benefiting various dog-friendly charities. For the full range and impact of dog-themed costumes curated by The London Police, you'll need to see the show for yourself. You know, For Dogs Sake. But in case you're not in the L.A. area, here are a few of the best looks from the fashion-show preview, with more pictures over on Pop Curious.
For more info about the show itself, check out the original post on Flavorpill.
'For Dogs Sake' by The London Police opens Saturday, October 13 from 7-10 p.m. and continues through November 3 at Corey Helford Gallery (8522 Washington Boulevard, Culver City, CA 90232; Tuesday-Saturday, 12-6 p.m.). For more info, call 310-287-2340 or visit www.coreyhelfordgallery.com.
PHOTO GALLERY
Dogs on the Catwalk