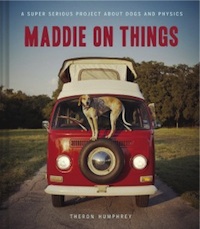 Photographer Theron Humphrey has done what many of us only dream of doing. Following a breakup and the loss of his grandfather, he quit his lucrative day job and rescued an adorable dog on Petfinder. Humphrey soon resolved to hit the road with his new best friend, setting out to visit all 50 states in 365 days for a project called This Wild Idea. Along the way, he also started working on Maddie on Things: A Super Serious Project about Dogs and Physics, a gorgeous hardcover from Chronicle Books with over a hundred fascinating photos of Humphrey's beloved Coonhound, Maddie.
From mailboxes and tree stumps to tractors and fences, it seems Maddie will climb anything if it only means making her owner happy. (And of course, let's not forget the treats.) Whether it's an old satellite dish, a rusted gas pump, or an oversized green dinosaur, Maddie's graceful nature and rare patience make her the ideal subject in this unique photo series that's equal parts old-fashioned American travelogue and quirky coffee-table tome. (See HuffPost's coverage of the project before the book.)
Humphrey writes: "Maddie taught me that I should wake up every morning and be grateful. She taught me that committing to something and sticking to it is how we grow. But most of all, she taught me that standing on things, everyday objects, can be incredible. She's my best friend and I wouldn't trade our time together for anything."
Read more about Humphrey's related project, Why We Rescue, and visit The Maddie Tour to see when you can meet this incredible dog. But if you missed her, no biggie -- there's still the book; check out a few images and the video below.
PHOTO GALLERY
BEFORE YOU GO
Maddie on Things
PHOTO GALLERY
Maddie on Things
(Originally posted on Pop Curious. All photos courtesy Chronicle Books and Theron Humphrey.)