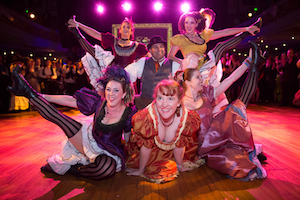 Queen Victoria's son King Edward VII ushered in a new century during his brief yet historic reign as the first British monarch of the House of Windsor from 1901-1910. Since then, "Edwardian" has come to define the art, fashion and intellectual life characteristic of the era, so it's only natural that the Edwardian Ball would be a celebration of the Edwardian Era, too. Yet the annual spectacle in Los Angeles and San Francisco is a lavish promenade that actually honors another Edward: American illustrator Edward Gorey.
While Gorey was born 15 years after the end of the Edwardian era on February 22, 1925, his artwork vividly references the macabre, neo-Gothic zeitgeist of the Victorian and Edwardian time periods. He continued to deliver haunting yet adorable tales in an iconic style -- writing and illustrating over 100 books -- until his death in 2000. Now, the Edwardian Ball is celebrating Gorey's upcoming birthday with a big party in Los Angeles on Saturday, February 8.
This year's theme is Gorey's 1961 classic The Curious Sofa -- a risque, illustrated adult narrative about furniture that Gorey published under an anagram of his name, Ogdred Weary. Expect a fete full of steampunks, goth types, and members of other fringe subcultures who like to wear things like corsets and miniature top hats for the ladies, and monocles and fezes for the gents. Get a taste of what's to come in Los Angeles with these incredible photos of the Edwardian Balls from the past.
The Edwardian Ball is Saturday, February 8, 8pm-2am. $45-75, all ages. Fonda Theater, 6126 Hollywood Blvd. edwardianball.com. Originally published on PopCurious.com.
PHOTO GALLERY
The Edwardian Ball