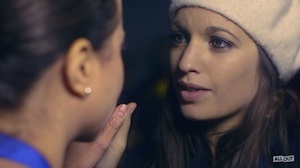 All Out mobilizes social networks in order to bring awareness to international LGBT rights, and it's produced a two-minute video to bring attention to Russia's anti-gay propaganda laws in the face of the upcoming Winter Olympics in Sochi. #LoveAlwaysWins has only been online for a week and has 800,000 views and counting, with more than 2500 comments -- many of them seething with homophobia. Directed by All Out's UK based Creative Lead and director of Homecoming, Mike Buonaiuto, the short film follows a female figure skater who's forced to hide her joy upon winning a medal because Russia considers public displays of same-sex affection illegal. It's still the reality for people living in 76 countries on earth, 10 where being gay is punishable by death.
"The Olympic video's commentary has become a place where people around the world can voice their support for gay rights in Russia," says Buonaiuto. "We're humbled the response has been so strong in just a few days. We hope more people see the short video, share it with their friends, and talk about the impact of Russia's anti-gay laws on Olympians and Russians. If they do, more people will come to the same conclusion millions already have -- no one should sacrifice their freedom or dignity because of who they are or who they love."
After All Out members delivered over 300,000 signatures to the International Olympic Committee headquarters in August, the IOC agreed that Principle 6 of the Olympic charter allows for indemnity against discrimination of same-sex relationships. But because anti-gay laws remain in place in Russia, the Olympic charter is basically moot.
"This video is helping thousands of people see how Russia's anti-gay laws are totally at odds with the Olympic Charter's ban on discrimination," says Andre Banks, Executive Director and Co-founder of All Out. "The video has also sparked intense debate among Russians about the anti-propaganda law. Some displayed intense hatred, while many stepped up to defend their gay and lesbian friends and neighbors. Hearts and minds are changed when people around the world engage their friends and family in these important conversations about what it means to be lesbian, gay, bi, and trans."
Coca-Cola has a longstanding relationship with the IOC, and it remains one of the biggest sponsors of the Olympics. With this in mind, All Out recently paid for three trucks to drive around the Soft-drink giant's headquarters in Atlanta, Georgia, with billboards asking the company to call for a repeal of the laws in Russia.
All Out is asking everyday citizens to help by sharing the video with the hashtag #LoveAlwaysWins.

(Originally published on PopCurious.com)
PHOTO GALLERY
#LoveAlwaysWins