I often ask myself why I have yet to fall victim to the compassion fatigue that reportedly plagues the world of today. Indeed, when one's life revolves around natural disasters, it is easy to question whether perhaps I have simply become immune.
But the truth is, my life is quite the opposite. In a world that appears to be crumbling before our very eyes, what I see on a daily basis is hope, tenacity, inspirational stories of survival against the odds and extraordinary resilience in the face of adversity.
I cannot say that I know what it feels like to lose all my loved ones, my home, my community, or my lifelong possessions in one fell swoop. Nor for one second can I even begin to imagine what that feels like. But I do know how it feels to have life as I know it turned upside down in the blink of an eye. I know what it feels like to stare aimlessly into a pit of despair so deep that survival seems quite inconceivable. And I know how much courage and determination it takes to wake each day and somehow put on one shoe, then the other, and take that critical first step into the unknown.
Human tenacity is extraordinary. For millennia, the human spirit has fought through the unimaginable and come out stronger and fiercer for the struggles it has endured. The fact is, the majority of us will inevitably face the unthinkable at some point in our lives - that heart-wrenching grief that notified me, for one, that a broken heart is far more than a mere trite expression. Disaster, in whatever shape or form, is part and parcel of being human and it is high time that we perhaps acknowledge that we are all in this together.
And that is what surrounds me at All Hands Volunteers. A community of people who understand this above all else - who, perhaps from the depths of their own deep pit, have developed two all-important traits that make us fundamentally human: EMPATHY and HOPE.
What the two have in common is that they compel one to act - they are stronger than sympathy and blind optimism, neither of which quite face up to the reality of life post disaster. Hope breeds agency - it demands facing the realities and addressing the obstacles with small daily steps towards a better future. And empathy pulls at one's heartstrings in a way that no other emotion possibly can. It gives us the ability to draw on our own experience of suffering and feel a fellow human's pain deep in our own soul, however different the circumstances may be.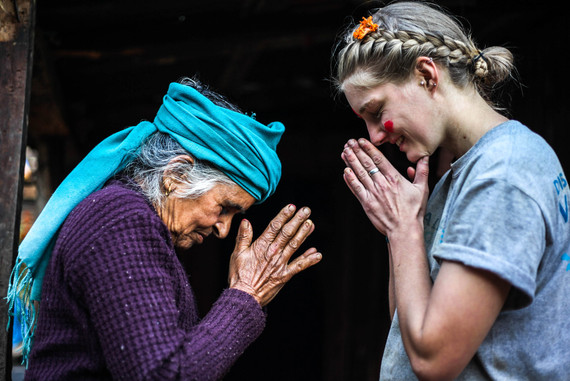 Photo courtesy of All Hands Volunteers.
When reflecting on empathy and hope and the role they play in the world of All Hands Volunteers, what springs to mind are two particular individuals - two women whose lives are worlds apart and yet they are linked by a common desire to make the world a better place, a desire that stems from their own stories of despair.
For Petra Nemcova, surviving the Indian Ocean tsunami in 2004 was not only a physically painful experience but an emotional one. Hearing the voices of children screaming for help was what later fueled her desire to found the Happy Hearts Fund, an organization that has since funded a number of schools being rebuilt by All Hands Volunteers in Nepal.
Netra Kumari Sapkota, fondly known as Aama, is 72 and has lived in the district of Nuwakot her entire life. When the earthquake struck Nepal in 2015, the grief and devastation that surrounded her were unimaginable. But from the depths of despair, Aama recognized an opportunity to help and donated her land for the building of a new school. This single generous act in the face of tragedy not only gave Aama hope and purpose but will soon enable hundreds of children to finally return to school.
Opportunities are often rooted in periods of great pain. Disaster, in whatever form it may take, invites a shift in focus and perspective which, should you choose to accept the invitation, can lead to new possibilities. What urges people like Petra and Aama to accept that invitation is nothing more than empathy and hope.
Today, the Bachchhala School nears completion in the hills of Nuwakot, Nepal. Funded in part by the Happy Hearts Fund, this school is being lovingly rebuilt by All Hands Volunteers on an area of land generously donated by Aama, and will soon become a visual testament to what can be achieved when hearts and hands meet. Combine empathy and hope with a flurry of hard working hands and the result is a magical circle of kindness and activity that, in our case, sees disaster-stricken communities restored, homes and schools rebuilt, and children given the opportunity to be children once more.
So to answer my own question, yes of course there are days when seeing so much loss and devastation is difficult to withstand. But within the embers of that loss often emerge the greatest acts of human kindness, compassion, resilience and hope. And while the news cycle has a tendency to focus on humanity at its worst, what I see daily is humanity at its very best. There is an abundance of human greatness out there...you just need to know where to look.
HOW TO HELP:
All Hands Volunteers remains in Nepal, rebuilding schools and hope in the districts of Sindhupalchowk and Nuwakot. Hundreds of volunteers are still urgently needed to lend their hands to these rebuild efforts. For further information, go to www.hands.org/ or apply to volunteer
Follow All Hands Volunteers on Twitter: https://twitter.com/AllHands