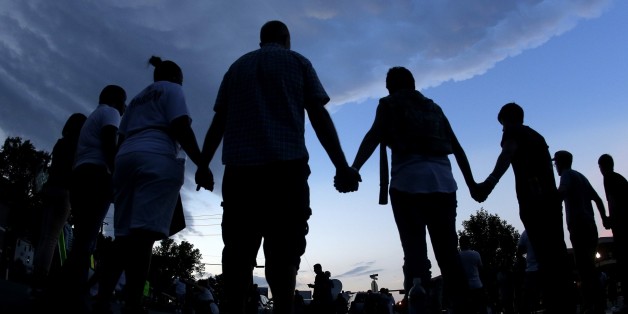 As we wait for the grand jury decision about Michael Brown's death, I cannot help but wonder how we understand, process and respect the differences in the legacy and imprint of his death and the protests and unrest in Ferguson Missouri, and how different these tragedies are seen/felt by many of us.
I sat in an airport business lounge recently nervously watching the CNN coverage of Ferguson, and the grand jury decision. Like many, I want a decision to be made, and want there to be peace in Ferguson. I was nervous that a decision would be announced, and that whatever the decision would be, others around me would make insensitive comments or declarations without a level of mindfulness or compassion about others around them.
I am keenly aware that people have different beliefs and about ideas about the Michael Brown shooting, and what has been happening in Ferguson. I am grateful that I live in a country where people can have their own opinions and freedom of expression. I do not always expect others to agree with me. I do question the current day climate for civil discourse, mindful communication, empathy and understanding of a much a larger and complex social and political history and context.
When the verdict about the Trayvon Martin shooting occurred in 2012, I vividly remember being home alone, and watching the verdict. I was shocked and disappointed. I was able to deal with my own emotions and feelings, and did not have to explain the emotions, nor put them in context, or connect them to a deeper historical legacy.
For many of us, the shooting death of Michael Brown cannot be seen in isolation, nor will the grand jury decision. There are historical legacies and events that bring up questions of bias, profiling, police presence, protest, the valuing/devaluing of lives, and the tragic loss of a young Black man.
Social media can often be often be an unscientific "temperature check" for the different viewpoints and expressions of confusion, fear, anger, disappointment and conscious and unconscious bias. In some ways, the world of short blogs and 140 characters is symbolic of the all too prevalent overly simplified analyses, and sensational headlines that might generation "likes" and "retweets," but do not bring us to a better understanding of people, communities or our history.
Mark Williams, in his book Ten Lenses: Your Guide to Living and Working in a Multicultural World, asks us to think about how our Legacies+ Layers= and Lenses and how we view the world. Williams explains that our "layers" are the aspects of our identity (race, gender, age, sexual orientation, language, ability, education, etc.) Our "legacies" are our ancestors' experiences.
Sociology and anthropology have additional theoretical ways of looking at groups, identity and connection. What Williams offers us is a very simple and clear way to think about how events and life experiences impact the way we view the world.
This could be a challenging model for those that believe that people need to "get over" things that have happened in the past. This is not to suggest that we do not acknowledge and celebrate progress, and the many changes that have been made a societal, national, and international level. It does however challenge us to think more holistically about the power and historical legacy of certain language, media images, and tragedies like Michael Brown's death.
In October of 2014, the Wall Street Journal reported that Governor Nixon formed a commission that would "to study and recommend ways to address underlying, systemic inequality."
The commission was formed after the protests and unrest, with the awareness that there is a legacy of inequality in Ferguson Missouri. It is a legacy that many have chosen not to see.
The protest and unrest that followed the Michael Brown shooting in Ferguson has been summarized by some with a generalized blanketing of individual behaviors to whole communities, and evaluations of complex situations with inaccurate collective blame. The virulent posts about looting and "thugs," often assess the events in Ferguson with a focus on highlighted criminality, and generalizations of the protests as nothing more than rampant looting.
I do not condone criminality or looting... nor do the majority of people in Ferguson, or those who support the people in Ferguson. My focus is more on the pain of the Michael Brown's family, the unrest after the shooting, and the legacies of inadequate educational access, poverty and related challenges.
Michael Brown's father recently shared a poignant video message acknowledging what was happening in Ferguson. He shared that he wants the grand jury decision to lead to "incredible change; positive change; change that makes the St. Louis region better for everyone." He also cautioned that "hurting others or destroying property is not the answer."
Civil Rights activist, professor and author Mel King views Ferguson through his experiences and the legacies of segregation and civil rights. In a recent interview he stated that "no one addresses the crimes against humanity, and every time something like this happens (Ferguson,) it is a crime against humanity." For King, Ferguson is tied to a much bigger picture, that includes his life experiences and a history of social justice, struggle, community empowerment, and civil rights.
Dr. Ancella Livers, is a renowned Executive coach, and expert in leadership and leadership solutions. In her article entitled "Skittles and Race in the Workplace," she talks about how the Trayvon Martin shooting is part of her consciousness, and connected to her worries and fears about her own sons. She writes "I know that I am not alone. I know there are other mothers, sisters, aunts and friends out there who carry such fears about their brown sons, their gay ones, their Muslim and Jewish ones. But there are few places for us to share these worries and fears." Her courageous vulnerability reminds us that the Trayvon Martin shooting is a legacy for her, and for others, and that is not something that can be checked at the door.
Moving Forward
In August, we read about a school that banned discussions about Michael Brown's death, and the protests in Ferguson. In the age of school shootings, and numerous challenges to healthy school communities, we can intellectually understand the desire to protect the students from information that could be scary and overwhelming.
However, I also believe that there was perhaps a missed opportunity for learning.
In my global diversity and inclusion and coaching work, I have learned that learning and dialogue about our layers, legacies and lenses can lead to better relationships at the individual and organizational levels. Banned topics do not cease to be discussed. Banning a conversation sends a message about a topic, and leads to discussions that often cannot benefit from diverse perspectives, life experiences, or the sharing of legacies.
Moving forward, I would hope that we create conversations that allow for nuances, the learning of different legacies, and the connection to our national and global communities.
Recent research in the U.K. linked happiness to a child's emotional health. They discuss emotional health as a predictor of future happiness. There are potentially severe implications and questions for children growing up reading about/seeing the news of Michael Brown's death, and the protests in Ferguson without healthy opportunities for support, sharing, and learning. What are some of the legacies that will impact children in the future? How can we help support and nurture the emotional health of all young people in an age of economic and educational disparity? How can we help children (and adults,) understand the different legacies that shape the way we view what happens our country and world? How can we help children process the deaths of Trayvon Martin and Michael Brown so that they understand that all lives do matter?
As we wait for the grand jury decision, I would advocate for a deeper awareness of the legacies, and an awareness Michael Brown's death, the protests in Ferguson, and the grand jury decision will indeed be a legacy for people around the world.