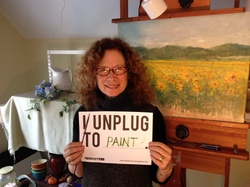 In celebration of the fifth annual National Day of Unplugging (NDU) -- from sundown Friday, March 7, to sundown, Saturday, March 8 -- the nonprofit Reboot is asking individuals and families to reconnect with each other by putting down their smartphones, tablets and computers for 24 hours. This week, Catherine Steiner-Adair, Ed.D., author of The Big Disconnect: Protecting Childhood and Family Relationships in the Digital Age, is the latest contributor to our Huffington Post series leading up to the National Day of Unplugging.

By Catherine Steiner-Adair, Ed.D.
Author of The Big Disconnect: Protecting Childhood and Family Relationships in the Digital Age

The assembly of first through fifth graders can hardly wait to gripe about their parents. I hear the same thing from middle school and high school kids. Our conversation is about our use of tech -- how much time we all spend on screens, plugged in to games or chats or trending stories, texting or tending to our lives online, and what it would mean to unplug for a day, or even just for an evening or, for some, a mealtime.
"My parents are the worst!" says one fourth grade boy. "My mom and dad are always, like, checking their email or texting people or doing things online. And if I try to ask them something, they're like--" he turns his head slightly away from me, looks down and puts his hand up like a crossing guard signaling, STOP.
Kids barely out of kindergarten tell me that their parents routinely turn to them for help on how to navigate online. A 13-year-old girl says she's frustrated that the after school conversations with her mother now almost always begin with a tech-support request practically the moment she walks in the door. "Go into settings..." has become the first words of their afternoon conversation as she provides the how-to tutorial for her mother rather than ask her mother for help with her homework or other things on her mind. Like most kids, she's proud that she can be her parent's go-to expert in something -- it feels good to be respected that way by your parent. But there's a tipping point at which kids feel the absence of a parent as the go-to guide in their life, and they notice it when their parents never seem available to talk about the things that have them excited, or worried, or confused.
"Your parents love you," I tell kids wherever I go. "Grown-ups are struggling, just like kids are struggling, to get control of their tech habits and who they are online."
We could all use a break. Think of the National Day of Unplugging as a day to remind us how uniquely valuable that quality of time together is. Tech is terrific as the great connector, but we need time off -- offline, screen-free, unplugged, whatever you want to call it -- to be with each other and by ourselves in ways that simply cannot happen when we're distracted by our constant availability to others or by distractions of our own choosing. In any given day there are so many ways we can create mini-moments to be a more fully present and undistracted presence with the people we love the most, plugged in to each other's lives in a special way. Spend a day unplugged, just being fully present to the moment without any digital distractions, and reconnect with what a difference a day makes.
Create the opportunities to experience focusing on one other just hanging out together, cooking together, reading side-by-side, getting outside together. There's no question that kids experience family connectedness, intimacy, togetherness in a very different way when there's no tech around. They love it and want it and are hungry for it. That unmediated, tech-free connection makes them feel like they matter to you and that you enjoy them, that there's nothing more interesting and compelling to you than their everyday selves. Kids really pick up on the energy present when everyone is reading or drawing or just hanging out together sans tech. Our interactions tend to be less pressured, our tone of voice softer and more receptive and kind than if we're interrupted in our tech activity and make others feel they're an imposition.
Use the day to reflect on the real measure of life, your lives together, the quality of your connections. This doesn't require drastic measures, just thoughtful ones. Let this day of unplugging inspire you to think of ways to stay better connected throughout all your days.
Make time for face time. Think about the last time you had 20 minutes of uninterrupted conversation with your child, or played a board game that way together. Make time for that today.
Bring the outdoors back into your and your child's life. Think about the last time you and your kids took a walk or went to the park when nobody was "just checking" email or texts? Give yourselves that, some time "hands free," meaning no phone in your hand or even within reach.
Use drive times to let the conversation and imagination wander. Chat, listen to music together, or just let the quiet enfold you and experience that scarce resource of solitude with your own thoughts.
How do you measure? Take a cue from the Broadway hit song "Season of Love" to start your list: In daylights, in sunsets, in midnights, in cups of coffee, in inches, in miles, in strife... and how about love?
Catherine Steiner-Adair Ed.D., is an internationally recognized clinical psychologist, school consultant, author, and speaker. The Big Disconnect: Protecting Childhood and Family Relationships in the Digital Age was selected by the Wall Street Journal as one of the top ten nonfiction books of 2013 and has been nominated as a finalist for the 2013 Books for a Better Life Award. A clinical instructor at Harvard Medical School and an affiliated with McLean Hospital, Steiner-Adair also maintains a private practice.
Reboot is offering a package of tips to give families ideas for unplugging and sample activities for facilitating tech free time. To view the list, visit http://nationaldayofunplugging.com/community-partners/. Additionally, individuals and families are invited to participate in the "I/WE UNPLUG TO _____" campaign to publicly share what they like to do when not using technology. Download the "I UNPLUG TO..." poster at http://nationaldayofunplugging.com/download-your-unplug-sign/