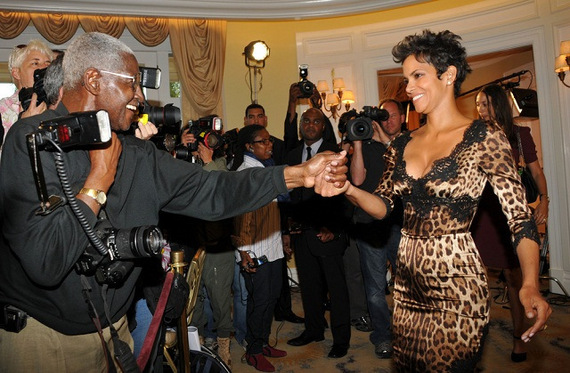 The BET Awards show held on June 29, 2014, was a record-breaking event. The event was cable's number one award show this season, drawing 7.9 million viewers and dominating Twitter with 11 million tweets. It was the most tweeted about "BET Awards" ever; outperforming the "Billboard Music Awards," "Golden Globes," "People's Choice Awards," "Game 5 of the NBA Finals" and the "World Cup USA vs. Portugal."
Debra Lee, Chairman and Chief Executive Officer of BET, should be wonderfully proud of her network's record-breaking accomplishment, nevertheless, she should be equally embarrassed by BET's treatment of legendary photographer, 83 year old, Bill Jones. It was terribly disappointing to learn that BET snubbed one of the most respected photographers in the business, and quite possibly the oldest Black photographer still working Hollywood's red carpets. Jones has snapped some of the most recognized and celebrated entertainers of our time including one of the "100 Most Powerful Women in Entertainment," Debra Lee.
Jones snapped his first celebrity photo of Muhammad Ali in the early 1960s while on duty as a technical sergeant with the Air Force. Over the next 50 years he would capture historical photos of Bill Cosby, Quincy Jones and Whitney Houston during their time as rising stars. Many of these photographs are part of Jones' book, Hollywood in Black: 40 years of Photographs by Bill Jones.
Jones' work has been placed prominently in prestigious national magazines such as Ebony and Jet and Los Angeles newspapers. Jones photographed and befriened many A-list celebrities like Halle Berry, Denzel Washington, Eddie Murphy, Bill Cosby, Magic Johnson, Berry Gordy and Quincy Jones, who credit Jones with photographing career-defining moments in their lives which helped them elevate their careers and public images. Of Berry, Jones said, "Halle was [one of] my first clients," he recalled. "I used to take her round to the park and shoot her." Asked if he knew she had star potential, he replied: "No doubt about it."
In an exclusive statement provided to me for my weekly talk show, Etc. Etc. Etc, broadcast on Spreecast, Jones had this to say about the BET snub:
As a photojournalist, I've always felt that it's important to document the important moments in Black America from the Civil Rights Movement to a post-Obama Era. I think there's a problem when one of the largest networks, catering to African Americans, doesn't show Black press the respect and dignity it deserves in doing its job effectively. From a professional standpoint, it was truly disappointing and disgraceful that members of press were treated like second-class citizens for an awards show, honoring Black Music Month.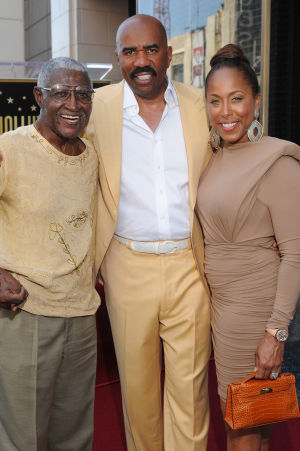 In 1997, Jones was physically attacked with a baseball bat, by his neighbor, 39-year-old Shai Alkebulan, while he washed his car . The motive is still unknown. Alkebulan was given life plus 13 years in prison. The injuries left Jones in a coma for a month, then paralyzed on his right side. He was determined to hold his camera but with his left hand. To help him with expenses for an upcoming surgery, many celebrities, that Jones had photographed, gathered together to salute the photography legend and held a fundraiser at Spago in Beverly Hills. The event was hosted by Steve Harvey.
The Los Angeles Times reports;
"When I showed up on the red carpet, he always made me feel so special," said actress Ella Joyce, who remembers that Jones took the first photo of her to be published in Jet. "That was a big deal for me."

Actor Richard Roundtree considers Jones "a mainstay and a giant in this industry." That sentiment was shared by actor Danny Glover, who noted that performers "gravitate" toward Jones at events.

No red carpet event would be complete without Jones' presence, said actress Holly Robinson Peete. "Thanks for everything he brings to the Hollywood scene," she said.
Many other veteran journalists were also denied credentials to the BET Awards event for the very first time. Tanya Hart, whose resume includes setting up BET's West Coast production operations and launching its first show out of their Burbank Studios in 1992 called, Live from LA with Tanya Hart, was also denied credentials. Hart spoke candidly me on Etc. Etc. Etc. about Jones' snub and about the negative changes in BET's culture since it was purchased by Viacom in 2001, and thus, was no longer a Black owned network.

Bill Jones is beloved by many for his excellence as a photographer, as well as, his gentle demeanor on and off the red carpet. BET and its leadership owe Mr. Jones and other snubbed veteran journalists, who have helped BET promote its content when the "mainstream media" would not, a huge apology. I wouldn't be surprised if the call didn't come from Ms. Debra Lee herself - she is that kind if of woman.