Gayle King's favorite color is yellow. Just like the sun, she is bright, full of energy, powerful and despite her self-proclaimed dating drought, she is considered HOT by many men (even a young, chart-topping rapper whose name I shall not divulge). The world has been so blinded and captivated by the brilliance of Gayle's BFF, Oprah Winfrey, that many people failed to fully appreciate the penetrating light emanating from Ms. Gayle King.
For over three decades, King has been "burning it up" in the world of news and entertainment. For 18 years she was an anchor for WFSB in Hartford, Connecticut where she won three Emmy statues. In the late '90s, she hosted her own talk show on the Oxygen network. Gayle is most widely recognized as a special corespondent for the Oprah Winfrey Show for over 25 years. Recently, she hosted a very successful radio show on XM Satellite Radio, while simultaneously hosting The Gayle King Show on the OWN network. Currently, King is the editor-in-chief of O, the Oprah Magazine, a position she's held since 1999. In 2008, Gayle won the American Women in Radio & Television Gracie Award for Outstanding Radio Talk Show and in 2010 the Individual Achievement Award for Host -- Entertainment/Information. She is also a 2010 New York Women in Communications' Matrix Award recipient. Gayle has always been brilliant in her own right and shines far to brightly to have ever been in anyone's shadow. In her latest role she has the opportunity to enlighten and brighten the morning of millions of viewers as a co-host of the newly formatted CBS This Morning.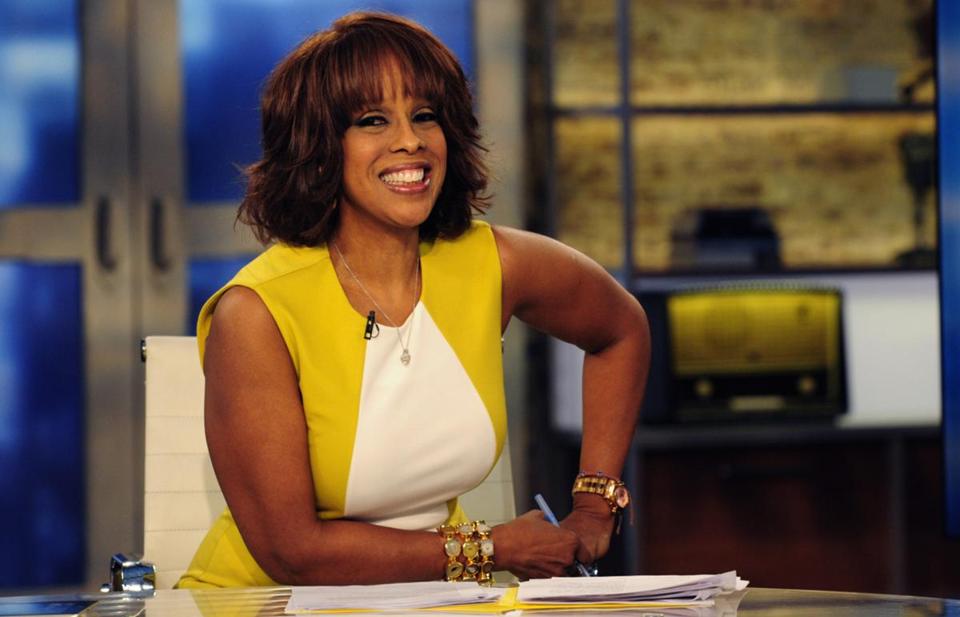 "TV is in my DNA," King said and on January 9, 2012 an excited and buoyant, Gayle King anchored herself to the sinking CBS This Morning ship. Gayle will join television icon, Charlie Rose and sole CBS holdover, Erica Hill, as a co-host on CBS This Morning. The always optimistic and confident King believes that her experience as a journalist, her extremely varied interests and ability to tell a story will help CBS This Morning become "relevant and competitive." CBS has trailed NBC's The Today Show and ABC's Good Morning America for years. In fact, the last time CBS ruled the early morning hours was when Captain Kangaroo was on the air. King states, "The show has nowhere to go but up." And up, about 5%, the numbers have gone since week one. However, it's not only the ratings increase that has King encouraged: she's inspired by the "amazing buzz" permeating the walls at CBS and the feedback she is receiving from the crew is wonderfully insightful. "The opinion of the crew really matters to me. They have seen the different sets and different anchors, so they know what works," said King. Even Gayle's competitors and friends, Robin Roberts, George Stephanopoulos and Morning Joe, have sent her congratulatory wishes and words of encouragement. "Everyone on the team knows this is a huge opportunity and everyone wants to shine. We all feel good about the first week but there is more work to do and we can do better and be better. It's exciting that everyone is on the same page," said King.
She has now completed two full weeks and the nervous jitters that were slightly apparent on day one are a distant memory. The pressures of starting off with a bang have dissipated mostly because of the positive reviews from the media, support from friends and the "rah-rah" champagne toast from CBS chairman and CEO Leslie Moonves (Gayle doesn't drink alcohol so she was given sparkling water). Where some foolishly pontificate that Gayle was gifted this coveted position because of her best friend status with the almighty Oprah Winfrey, it seems more plausible that Gayle has been denied on-air opportunities, for which she was obviously qualified, because of the intimidating aura of her BFF relationship. In fact, every time a network, on-air position opened on The Today Show, Good Morning America, 20/20, The View or The Talk, Gayle King's name was always rumored to be on the short list for very good reasons. King's television experience, merit awards, successful track record, and Rolodex of potential guests has earned her the seat she now holds at CBS. However, Gayle credits CBS vice president of programming, Chris Licht (former creator and executive producer of MSNBC's Morning Joe), as the reason she now sits at the glass round table at CBS Studio 57 every morning, Monday through Fridays. Gayle appeared on the Morning Joe program numerous times and Licht believed that King could offer just what CBS wanted and needed. "CBS wants intelligence -- I'm intelligent. CBS wants story tellers -- I can tell a story," stated King as we discussed why she believes she is a perfect fit for CBS This Morning.
AT 57, King is now busier than ever. She no longer hosts her radio or talk show, however, her resting hours have decreased considerably since joining CBS. "I have to make changes because of my new schedule," King said. As I was speaking with Gayle, she was looking at a picture of the first graduating class from the Oprah Winfrey Leadership Academy for Girls in South Africa. Gayle could not attend the graduation because of her new job commitments. She said, "I'm sad because I can't be there. I was there when we broke ground, I helped select some of the girls, I was there when the school was a dream, merely thoughts on Oprah's paper, so it makes me sad to miss the graduation of the first class." But without missing a beat she continued, "But trust me, I'm not bitching about anything, I am very blessed and happy to have this new job."
King's day is packed with activity from the moment she opens her eyes. In the past, she went to bed no earlier than midnight. She woke up around 5:00 a.m. to comb through local and national newspapers before she hit her treadmill for a morning workout. "Now, I'm up between 4:30 and 4:45 because I still try to bathe each morning (sarcastically spoken), I'm in the car and I have to be camera ready by 6:30," she continued. King hosts the morning show and attends show related meetings, then at around 11:00 a.m., she heads to the offices for her other "gig", editor-in-chief of O Magazine. King has always been a fixture at high-profile events in New York, Washington, Chicago and Los Angeles. The social butterfly, must now attend less soirees, premieres and A-list galas because her new bedtime is closer to 10:00 p.m. Nevertheless, King said, "This position came at the perfect time in my life." She has greater flexibility because children are adults. Her son, whom she calls, "favorite son Will" and her "favorite daughter Kirby" are working in Shanghai and Washington D.C. respectively. Gayle is a proud, doting mother who attends Jay-Z and Eminem concerts with her children and sings every word to every song much louder than they do. She has recently settled "favorite daughter" Kirby into a new luxury condo in Washington D.C., and her next parental goal is to take the 14-hour flight to Shanghai to visit "favorite son" Will.

After the love for her children, King loves the news. According to King, she has always been a "news junkie" and strongly believes that there are millions of "news junkies" who are going to gravitate to the "news focus" format of CBS This Morning. Unlike their competitors at NBC and ABC, CBS This Morning will not have national weather updates, cooking segments and fashion shows. "CBS said, let's do something different," said King, and so far, they stayed true to their plan. Charlie Rose who drives the first hour is an iconic journalist "who nobody can compete with when it comes to interviewing," said King. The first hour is where the hard news is broadcast. King drives the second hour where topics range from pop culture and celebrity interviews to trending news topics. One of Gayle's greatest attributes is her ability to transition seamlessly from hard news to softer, entertainment driven topics -- a skill-set not yet mastered by Rose or Hill. Erica Hill, a CBS veteran, who King said is "very smart, very quick and likes to play," is the supporting host in both hours. In watching the first two weeks, there is a very strong connection between the two heavy hitters; King and Rose. King said, "You can't plan chemistry. You either have it, or you don't." In my opinion, the jury is still out regarding Erica's ability to gel with the powerful new comers, but her talent as a journalist is apparent.
Gayle acknowledges that she has been out of the hard news game for quite a few years but she thinks it's just like riding a bike -- you just get back on, and do what you've been trained to do. Over the years, with the growth of the internet and social media, there have been vast changes in how people get their news and how news outlets share the news. Now, news spreads worldwide almost instantly. Nevertheless, as a journalist, King believes "news is news." During her first week at CBS, when she was preparing for the exclusive, "feather in her cap" interview with First Lady Michelle Obama, she said her preparation was the same as it has always been. King said, "in news, you have to be accurate, fair, prepared and thorough." Despite the obvious differences between her last on-air "gig" and her new post, King claims that her primary objective is to stay "true to myself, true to CBS and true to the news because CBS has high standards." In true King fashion, she doesn't plan on changing her very colorful, highly accessorized style of dressing to fit into the conservative news persona. I asked Gayle is she was going to curtail her ofttimes strong, outspoken, passionate and sometime bias opinions, as shared on the Gayle King Show, because main stream news outlets are patently objective. She paused, laughed and said, "I hadn't thought about that. I guess I should ask someone that question." When pressed about her ambitions and next big step -- maybe CBS prime time interviews or contributing to CBS Evening News -- she answered in classic, self-deprecating Gayle King style, "My next big step is walking to the CBS set at Studio 57 and getting back to work."
Gayle King represents a new type of news journalist -- image and style conscious; quirky yet smart; witty and charismatic; loose and flexible -- qualities that might have delayed her landing a network news position sooner, but qualities she is not going to change. Kings said with a hearty laugh, "They brought me here be myself. They knew what they were getting when they hired me." CBS has hired the new queen of morning talk and it's "KING": Gayle King!
CBS This Morning runs Monday through Friday from 7 a.m. to 9 a.m. ET