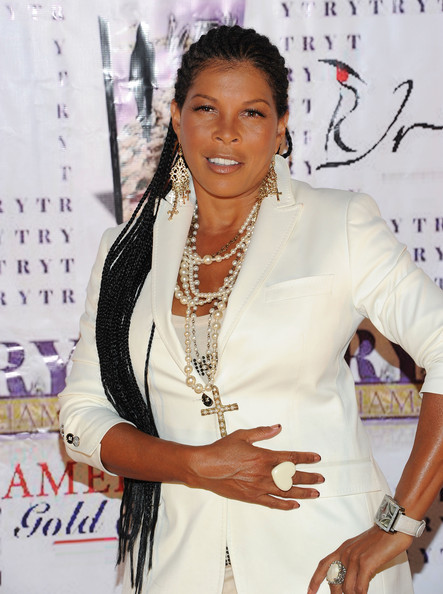 On the eve of the 84th Academy Awards, I spoke with veteran Oscar stylist/designer, Dawn Haynes about her experiences styling and designing celebrities for the Oscar Awards. Haynes has been Eddie Murphy's stylist for over a decade and she candidly shared her feelings about Murphy's decision to withdraw as host of this Sunday's Oscars.
"Eddie is iconic. He is a brilliant comedian, and actor. He is quick to improv and his comedic timing is like no other. Eddie is also a perfectionist and would have been stellar. He repeatedly told me that the show was not about him, it was about the actors, producers and directors vying for the coveted Oscar trophy. He said it was about the millions of viewers enjoying the show. He was preparing for the task, and therefore, I was devastated to hear the news that he decided not to host the show. I had big plans for him and his look throughout the broadcast. I was in talks with Tom Ford and Donatella Versace had invited me to Milan to began sketching designs for him. I have had many highs in my career working with the likes of Halle Berry, Jeremy Piven, Denzel Washington, Samuel L. Jackson, Taraji P. Henson, Jamie Foxx, Quincy Jones, Usher, and many others; but nothing compares to the opportunity to create a unique look for the host of the Oscars. Eddie would have been an amazing host: I think we may have seen him at his best. I am sure that The 84th Academy Awards will be great with veteran host Billy Crystal, and I may be bias, but I think Eddie would have made the Oscars memorable."
Dawn Haynes' reputation as a A-list Wardrobe Stylist has continued to skyrocket over her 25 years in the entertainment business. To date, Haynes' client roster reads like a who's who list of A- list entertainers from the worlds of film, television, music, and sports. Some of the most memorable fashion images in entertainment history have been flicked, teased, or tapered by Haynes. As a designer, Haynes' collaborative credits are as stellar as her styling clientele. She has collaborated with; Donatella Versace, Roberto Cavalli and Mr. Valentino. Haynes has styled clients for every major award show in the entertainment industry.
Dawn has a passion for styling men, and is inspired by the likes of Tom Ford, David Beckham and Steve McQueen. Her reputation for celebrity trendsetting makes her a sought after commentator on style, fashion and design. She has seen on Entertainment Tonight, Access Hollywood and featured in numerous trade and pop culture magazines.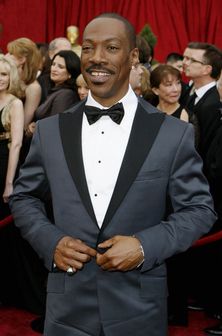 Ms. Haynes vividly recalls her greatest Oscar Fashion memory as:
"When I had the wonderful opportunity to design Eddie Murphy's tuxedo with Donatella Versace the year he was nominated for Best Supporting Actor. I wanted to deliver something fresh and new so I chose a color of steel-blue. The cut was very European, with a sharp peak lapel, black button studs and bow tie. It was incredibly exciting and ever so rewarding when I saw how confident and thrilled Eddie was with my work."
Ms. Haynes graciously agreed to offer her predictions on what some of the nominees would wear, and her style recommendations for styles that would look great on the celebrities.
George Clooney
The ever so handsome George Clooney will be "black tie" elegant. George defines debonaire. He understands the power of clothes. Simply put, he has "swagger."
Prediction: George will be classic opting to wear an Armani deep V 2 button tuxedo, white shirt with white pocket square and hand tied bow tie, classic lace up black shoes and a lovely accessory on his arm (and I am not speaking about a watch).
Recommendation: I would design a double breasted, sharp peak lapel tuxedo. George understands the "power of clothes," therefore proper tailoring is essential. I would use a snow white shirt with French cuffs and impeccable diamond cuff links. He would wear a white, slightly angled, folded pocket square, and a hand tied black bow tie. The trick to the bow tie is that it should always match the width of the lapel.
Brad Pitt
Brad Pitt oozes class on the red carpet. His choice of formal wear always leaves the biggest impressions. Brad understands that the man wears the tuxedo, the tuxedo doesn't wear the man.

Prediction: Brad will wear Tom Ford. A single breasted peak lapel carefully tailored tuxedo. A white formal shirt, black bow tie, studs and slip-on black tuxedo shoes.
Recommendation: My choice design for Brad Pitt would accentuate his dynamic physique. Brad is most always seen wearing black therefore, my choice of color would be midnight blue, with black grosgrain on the shawl. The shawl collar tuxedo is a good fit for the leaner man. The key here is the cut of the jacket. I would accentuate the waist and emphasize the look with a white pleated shirt, black button studs and black bow tie.
Viola Davis
Viola Davis has been amongst the best dressed on the red carpet of late.
Prediction: She will wear Vera Wang. A raspberry, gently pleated gown, with flowing, floor-sweeping hem. She will look like the "classic diva."
Recommendation: I would design a glamorous plum gown resembling that of "Old Hollywood." I would dazzle the gown with details of shimmer and opulence at the bodice. The gown would enhance her romantic hourglass silhouette, featuring two thin straps; a low back, with a deep front split; a slight train; and a concealed zipper with hook and eye in back. She would look effortlessly stunning.
Melissa McCarthy
Melissa McCarthy, she knows what looks best on her full-figure and is a designer at heart.
Prediction: She could grace the red carpet in Valentino -- an elegant halterneck, sleeveless, V neck gown beaded at the waist.
Recommendation: I would steal a page straight from the design house of vintage Halston. I would use antique rose. The design would bare one shoulder, fitted bustier, boning at the bodice with a floor-sweeping train. My design would carefully display her curves in a ever-so flattering way. I would use with minimal accessories, and create a timeless look of elegance.
Michelle Williams
There is nothing better than someone who reeks confidence. Michelle Williams owns the red carpet each and every time she steps on it.
Prediction: She will wear Versace. A glamorous strapless, fiery red chiffon, sweetheart neckline with asymmetric pleats; thigh high slit with a slight train.
Recommendation: My choice design for Michelle Williams would be radiant. In fact, I would dare to say she would look stunning in red -- reminiscent of Marilyn Monroe herself. The design would include beaded embellishments, silk chiffon, a long train, a plunging neck line, with lightly padded cups. This gown would surely turn heads.
If you have styling questions contact Dawn Haynes on Facebook @ Dawn To Dusk Haynes